Thousands March in Los Angeles to commemorate the 1915 Armenian Genocide
On April 24, an estimated 60,000 people gathered in North Hollywood to march in protest of the United States government's lack of recognition of the Armenian Genocide, and Turkey's consistent denial of the genocide over the past 101 years. Participants wore shirts with slogans showing the unrest of the Armenian people due to this denial — some with phrases such as "Our Wounds Are Still Open" — and held signs and banners with written messages that expressed their grief. They also waved Armenian flags and chanted phrases such as "1915 never again!" and "Shame on Turkey!"
Every year, the march is organized by student monitors of the Armenian Youth Federation (AYF). Clark junior and AYF member Arina Megerdichian said that even though she does not believe the march will drastically change the U.S. government's decision in recognizing the Armenian Genocide due to their vital foreign relations with Turkey, it still allows for the Armenian people to stay united and strong as a community.
"Looking at how the US government has responded over the years, I don't think that they will put political benefits aside to recognize the genocide. However whatever their response may be, it is our responsibility as Armenians to march even for just one day a year and dedicate our time to our country encouraging all efforts to spread news of the atrocities that have been forced upon our people," she said. "Years may pass, but we must inspire each upcoming generation to join the cause and unite to claim justice for the lives of 1.5 million of our ancestors."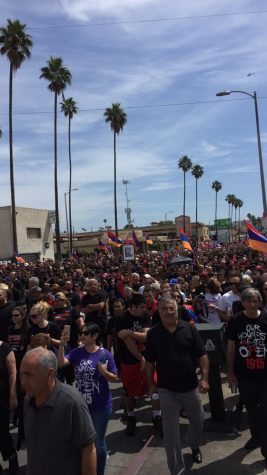 Hoover High School junior Roney Safiani believes that consistent protest will cause the ultimate recognition of the genocide. "The U.S. government will eventually see that we are never giving up and grant us the justice we deserve," he said. "If this country really cares about giving power to its people, then it will prioritize our wishes over its foreign relations no matter how valued they are. They should be able to reach a compromise for us."
Protesters came from all areas in Los Angeles, consisted of all ages, and represented many different races and ethnic backgrounds. Forty year-old African-American North Hollywood resident Trevor Anderson said that he participated in the march to help alleviate the pain of the Armenian people. "I know how it feels for your own people to have been discriminated against and executed. It's a stab in the heart," Anderson said. "I hope that one day the souls of the Armenian people who died in this genocide may finally rest in peace."
About the Contributor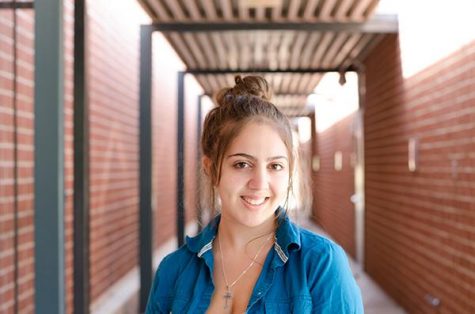 Christine Ohanyan, Section Editor
Hobbies/Interests: fuzzy blankets and scented candles
Favorite Movie: They Live
Favorite Food: Turkey Sandwich
Plans for the future: get into heaven
Three...