BEEMing cars during Clark's first-ever automobile show held by Automobile Club
Luxurious cars from BMW, Mercedes, Lexus, Bentley and Porsche covered the Clark athletic field during the car show held by the Automobile Club that took place during enrichment April 29. Over 700 attendees and many sponsors including Pacific BMW, Infest Forum and Forgiato were present.
Since the beginning of December, main organizers including Andy Basamekyan, Allen Deravanessian and Varuzhan Hakobyan assembled this group of fellow car enthusiasts to attend Clark High School's auto show. "It has been a lot of work and a lot of hours, but showing from the amount of cars that are here, it has been well worth it," Deravanessian said. Several students from other schools, such as junior Shant Baghdasaryan who attends Glendale High School, also brought their cars to the show. "I've had my car for about two to three months, now," Baghdasaryan said. "The speed is one of my favorite things about it."
A SWAT vehicle from the City of Glendale also made an appearance during the car show. Many students seemed to be interested, since they were sitting in the back of the car, as well as in the passenger and driver's seat. An officer stood in front of the vehicle, describing the basic vehicle's functions and abilities.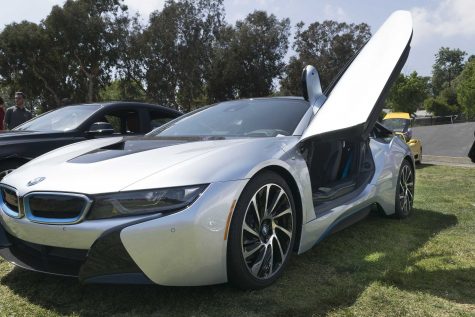 A certain car that seemed to be an eye-catcher for many students was the BMWi8. "This car is so stunning, especially the color and structure of it," junior Anna Mikaelian said. "I've never seen something so unique before."
The car show lasted for about an hour, until the students and sponsors started to pull out their cars and make an exit. "I'm truly glad this club was able to pull something like this off," said junior Amalya Chakhbasian. "It's definitely a great day to remember."
The last car show held at Clark was held in 2003, an event organized by the junior class committee. Car dealerships donated prizes such as key chains, car wax and T-shirts. This year, hats were being given out for free. Students could also purchase popcorn and water.