Protesters march for Nagorno-Karabakh and their land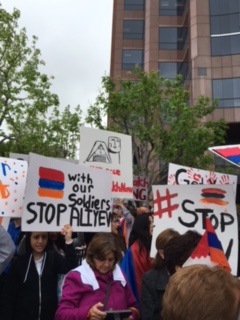 A protest took place in Los Angeles April 8 in front of the Consulate General of Azerbaijan. More than 3000 Armenian youth, as well as grandparents and parents showed up. Private Armenian school students from Pilibos and Mesrobian High Schools arrived in buses, wearing their uniforms and holding the Armenian flags in their hands. Adults handed out painted signs with phrases such as "Azerbaijan is ISIS," and "ArtsakhStrong."
A group of students starting singing, "Axperus u yes," a heart-aching song about two brothers telling their mother they're going off to fight in war. "My cousin signed up to fight in the front lines in Artsakh," said junior Amalya Chakhbasian. "It's hard to not be worried, but he's doing this for his country and that takes a lot of courage."
About an hour after the protest started, people were pushing and shoving to stop traffic. Cars honked, and frustrated drivers got out, yelling at the chaotic crowd to move. Protesters eventually stopped all traffic and sat down in the middle of the street, yelling, "Stop Aliyev!"and "Free, independent, Artsakh!"
Sophomore Natalie Geragosian said it's important for an Armenian to do everything in their ability to help their homeland. "We need to make sure what's ours, stays ours, and is not taken away from us," Geragosian said.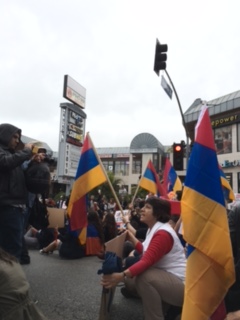 Men placed flags on their backs as they were singing the Armenian national anthem. Individuals from different Armenian Youth Federation chapters held hands and continued to shout chants.   According to an article in The Economist, the recent protests in Southern California began after Azerbaijan launched an attack towards Karabakh, after Karabakh held an independence referendum which resulted in 99 percent of individuals living in Karabakh voting for independence. More than 50 soldiers have been killed so far while fighting, and civilians continue to live in danger.
As a result to these actions, many efforts are being conducted to raise awareness regarding this issue. Students at Clark Magnet High School held their own peaceful protest during lunch, raising Armenian flags and silently standing. "The more educated people are regarding the current situation in Nagorno-Karabakh, the more attention we will get, hopefully leading to defeat with Azerbaijan," said junior Patrick Torossian.