Clark students limited in online courses
A staggering 28 percent of college students take online classes, contrasted with the two or three students taking classes online at Clark.
Online classes are a way for students to take courses to get ahead in their studies. According to U.S. News & World Report, taking classes online can cut college costs and help students "get a sense of what will be expected in a college course." These classes provide an alternate learning method, which some students consider to be superior to the in-class experience.
"I think it's better to take an online course because you get to learn it in your own pace," said senior Tristan Mouradian, who took Algebra 2AB over his summer break.. "[Sometimes] you have only a certain amount of time with a teacher and you can't talk to them later. In an online class, you can reference [the material] again as many times as you want and you can watch the videos over and over again until you understand it. You can't do this in a classroom because in a classroom you have to keep moving on."
Mouradian is one of the few students who took an online course through the Brigham Young University Independent Study (BYU IS). BYU IS provides many courses in language arts and mathematics and also classes in majors such as Business Education and Computer Science.
"My counselors told me that I can get ahead in my classes if I took an online course and so they gave me the link and I went on the website and signed up for it," Mouradian said.
"Students take these courses as recovery to make up a D," said counselor Susan Howe. "Some take it because they prefer the convenience of doing it at their leisure as opposed to going to summer school. Others do it because they have vacations planned at the same time as summer school."
As reported by Babson Survey Research Group, 5.8 million college students are taking "at least one distance education course" in the United States last year, a staggering 28 percent of all college students. In contrast, only two or three students take online classes at Clark every year, and those students only do it for remediation, according to Howe. The reason behind the major difference in numbers comes from the fact that Clark students are limited in their class choices, both online and offline.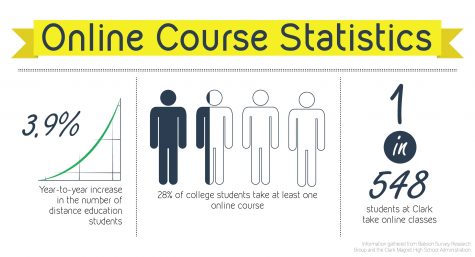 Clark Chronicle Staff
"You guys are in a really locked program. In fact, even in the summer you can't take classes for advancement [at school]," said GUSD Senior Director Dr. Deb Rinder. "You guys at Clark are only allowed to take remedial classes in the summer, not classes for advancement, because you are specialized magnet program."
As stated by Rinder, GUSD provides its own online courses for students, specifically for Government and Economics or Health. Taking these classes online would free up a period for students to take other classes. "This shows initiative, this shows motivation, this shows focus," Rinder said. Crescenta Valley High School social science teacher Pia Hugo said that taking online courses "forces [students] to be self-motivated, self-directed learners, which is how you have to be in college."
However, taking Government and Economics classes online is only available to students at the Crescenta Valley or Hoover High Schools. According to Howe, "It is not really a plan to expand online courses" at Clark Magnet High School.
"We are not a comprehensive high school," said counselor Karine Turdjian. "We are a magnet high school with a focus on science and technology, which is why CV or Hoover has more options." Turdjian said that Clark students cannot take online classes for advancement, but they can take them for remediation or for their major depending on the college the students are attending. "Some colleges accept certain online classes and some don't, so we need to know the student's future plans."
"Glendale Unified is looking at expanding the use of technology in the area of instruction and keeping up with 21st-century learning." Rinder said. " I think we need to do a better job at messaging what the technology opportunities are, providing the training for teachers, parents and staff and then moving towards having technology be a priority and an expectation in our district."