Clark Magnet wins annual Scholastic Bowl
It was exactly 7 p.m. when the annual Scholastic Bowl Competition began in Glendale High School's auditorium on Monday. Students from Crescenta Valley, Glendale, Clark Magnet, and Hoover High Schools all participated, as Clark yet again proved to be successful after its most recent first-place finish five years.
From months of training by librarian Susan Newcomer, Clark students had been preparing for this competition for a long time. "I was very happy when they won," Newcomer said. "They worked very hard all year."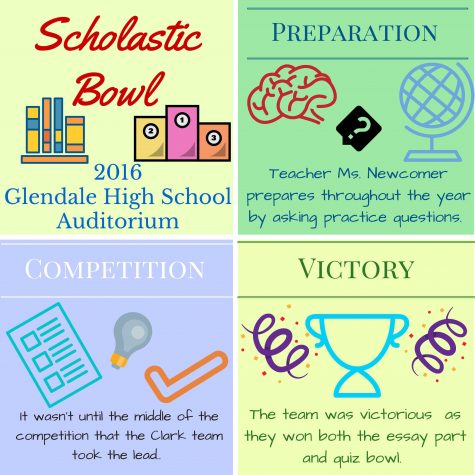 ritabilamejian
This year Clark won the essay part of the competition as well as the quiz bowl like they did in 2011. The team consisted of four juniors — Aram Arutyunyan, Areen Andreasian, Alexander Popovic, and Bhavin Shah — and one freshman, Brijal Shah. This was a unique feature among the teams this night, as most of the schools' teams consisted of seniors.
At the start of the competition, Clark was behind Glendale High School. "We didn't have a promising start," Andreasian said. "We were nervous and I myself was mad at my poor performance."
However, halfway through the competition, Clark's team began to accelerate. "They were on a roll," Newcomer said. "They just began to answer questions one after the other." At the end of the competition it was clear that Clark was going to win. They were far ahead of Glendale High School and continuously scored extra points.
At the end of the competition, Clark had won and was awarded a trophy and scholarships for each participant. "I'm very proud of the students," Newcomer said. "And I hope next year more sophomores and juniors will join the team and success."
About the Contributor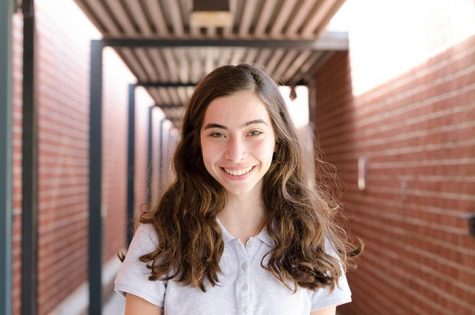 Rita Bilamejian, Business Manager
Hobbies/Interests: Drawing, watching tv, reading
Favorite Movie: The Hunger Games
Favorite Food: Pizza
Plans for the future: become a successful lawyer.
Three...