Getting in the spirit of spring
Students decorate doors for donuts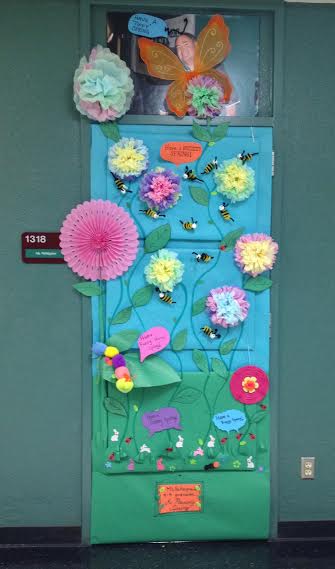 Need help getting into the spirit of spring? Take a walk down the second floor where you will surely start smelling the blossoming flowers and noticing bees once you see the winning door of this year's spring door decorating contest. The winner this year was English teacher Carol Pettegrew's fourth period freshman English class.
For the past few year's, Clark has hosted a door decorating contest, an event where each teacher's fourth period class has the chance to decorate their door based on a chosen theme for a grand prize: donuts.
For spring, Pettegrew's fourth period decided to decorate their door with cute spring-based designs like flowers and bees. They also decorated a picture of teacher Randy Tiffany and made him look like a butterfly. "The kids who were interested came up with the design," Pettegrew said. The students got creative and made their creation come to life by making such items like tissue paper flowers and the bees, which were made from pipe cleaners.
Aside from the obvious aesthetic element to the door, another thing that made it a champion was the previously mentioned picture of Tiffany as a red butterfly. Nare Agakhanyan took charge of the project. "We collectively decided to make Mr. Tiffany look like a butterfly because his picture was right there and we had to take advantage of the opportunity," Agakhanyan said. "I told him to check it out and I think he did."
Agakhanyan had help from her friends, some who didn't even have Pettegrew as a teacher. "Not all the work was done by my fourth period," Pettegrew said. "Some people just came and helped with the decorating." The students' efforts became worthwhile when they won the contest and the donuts.
"It's like we're breaking the tradition," Pettegrew said. "All the kids who put in a lot of their hard work really deserve to win the donuts."