Clark shows off its spirit
In anticipation for spring break, Clark held its annual spirit week, from March 10– 13. Monday was not a part of Spirit Way, on account of the WASC committee being scheduled to assess and evaluate the school throughout the week.
That did not deter students and staff from showing their school spirit. Tuesday was the official kick-off, with "Crazy Sock Day." Junior Andrea Estrada said, "I wore different socks — one orange, one blue." Even Spanish teacher Anne Reinhard participated, wearing striped knee high socks with her typical attire. Other students added that they liked being out of uniform, and many did not even wear "crazy socks," just free dress.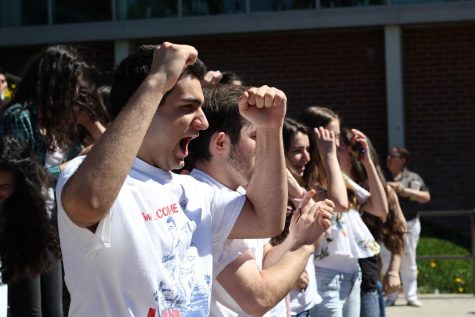 On day two of Spirit Week, more people were into it, bringing their jerseys and other sportswear out. A particular team many seemed to favor were the Lakers. "My friend Cynthia Shamerzian wore a Lakers jersey and Lakers shoes — she really stuck out in spirit," said junior Patrick Castro. Nevertheless, some students didn't enjoy this theme. "Not everyone likes sports," said sophomore Kahren Torosyan.
Thursday was "Retro Day," where participants showed up dressed in clothing styles from past decades. This day garnered less participants than the previous days, but history/photography teacher Eric Kursinski sported pinstripe bell-bottoms, a maroon button-down, and Ozzy Osborne/John Lennon-esque teal mirrored sunglasses, channeling the 1960s.
Friday topped off Spirit Week with a double feature: class colors, plus the talent show. Freshmen and seniors wore black, sophomores wore green, and juniors wore white — all three colors are Clark's school colors, so class-wise and overall, "This day," according to senior Anaeis Ebrahimi, "was the most spirited."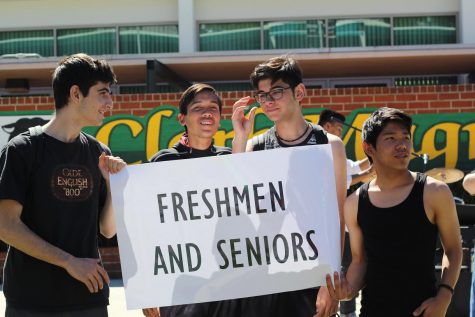 This year's talent show had fewer performers than last year's; however, some acts returned, namely senior Maggie Baboomian, who sang "Sugar" by Maroon 5, and the Dance Club, who did a dance to mashups of songs including "7/11" by Beyoncé and "We're All In This Together," from the High School Musical soundtrack. "Maggie's performance was amazing. She has such a lovely voice," said sophomore Karla Solorzano. "I'm sad she'll be graduating this year. Music Club would be nothing without her," added fellow sophomore Aren Shaginian.
In addition to these acts was band 1/10, comprised of juniors James Gill on bass guitar and Joshua DeLeon on lead guitar and vocals, and senior Tyler Lofftus on rhythm guitar. DeLeon's brother, David, who graduated last year, also plays drums for the band. They continued playing well after their time was up, much to the entertainment of the students and the exasperation of the neighbors.