Students attend a business lunch
As the lunch bell rang on Feb. 24, most students, as usual, went out to the amphitheater or the Panther Pit for lunch. However, the students in Nicholas Doom's Economics class all boarded a bus and left the school for a very special field trip.
These seniors were all taken to Montrose where they lunched in a new restaurant, Montrose Town Kitchen and Grill. The owner of the restaurant, Jim Collins, (Doom's friend) opened up his new restaurant no less than a month ago, and had invited the class to enjoy a special lunch in his restaurant as he explained the essentials of owning and operating a business.
Collins's talked to the class about his top ten rules for starting a business. Some of these rules included having a clear market plan, prioritizing a list of things that need to happen to start a business, and having a clear idea of the target customer.
Prior to opening up a restaurant, Collins was the owner of six different Internet companies. However, when pondering what to do when he opened up a new business, he decided to open up a restaurant. Collins said that he had grown tired of working through the Internet, where he would never meet his clients face to face, and thus he started this new business just for that reason.
Collins's idea for his restaurant was to create an elegant environment with good old fashioned American (or Americanized) food. According to Collins all the restaurants in the Glendale, La Crescenta region have become too ethnic, which is why he wanted to open up an affordable, elegant American restaurant with a bar.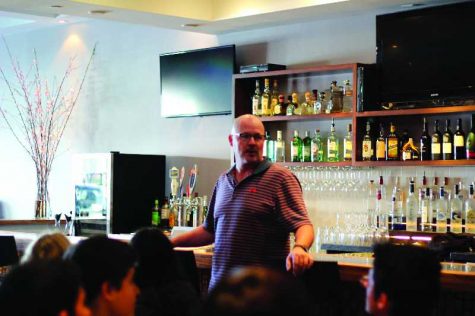 "It was a unique experience," said senior Mariel Lansangan. "I liked that how he said 'this is a business, not a classroom' and didn't sugar coat anything the way some teachers have to do."
During Collins's lecture, his chef (Chef Cory) was busy in the kitchen making pizzas for the students. "I thought the speech the owner gave was more memorable than the pizza," said senior Neha Reji. "The trip was a nice experience, but I probably won't be going back to eat there."