Issa Al-Hadeed Gets Award for Mock Trial Accomplishment
Clark senior is one of a handful of students awarded for excellence in the Constitutional Rights Foundation Mock Trial Competition for 2013.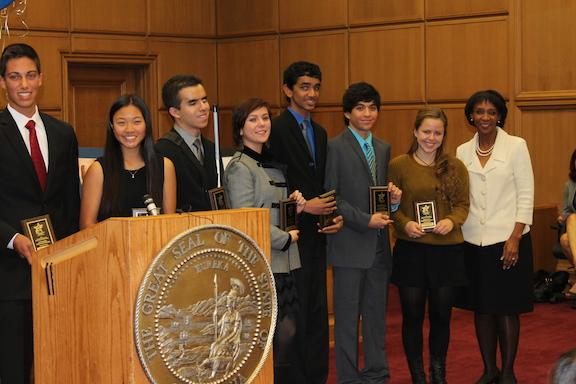 Senior Issa Al-Hadeed was on Facebook when a surprising message popped up on his screen. "I was like what is this? It had something to do with Mock Trial and it had my name on it. I was like did I get in trouble or something? I clicked on it and it said 'Congratulations to our very own Issa' and I was like oh my god, what happened? What did I do?" Al-Hadeed said.
On Wednesday, Al-Hadeed was awarded for his outstanding performance as a witness for Clark's Mock Trial team at the Stanley Mosk Courthouse in Downtown L.A. He was rewarded for having a high score in the portrayal of a police officer. Out of the 92 senior division teams that competed, he was the one who was selected to receive the award.
During the competition, Al-Hadeed portrayed Officer Robin Doherty, an undercover cop with a young appearance. Because of his youthful look and hobbies playing in a percussion band, the officer goes undercover as a student at a school with drug-related problems to prosecute a kid that is selling drugs. For most of the time, Al-Hadeed did not feel nervous.
"The other team has the opportunity to question me as well and that's kind of unpredictable — you don't know what they're going to ask but at no moment there did I feel nervous," Al-Hadeed said. "In fact, I was kind of sarcastic towards the other team. I tried my best to be as sarcastic as possible and waste as much time as possible for the other team."
Al-Hadeed said that witnesses are under a time constraint and by wasting the other team's time, you give yourself an advantage and the other team a disadvantage. While weekly practices on Wednesdays and Sundays helped Al-Hadeed prepare for his role, the movie 21 Jump Street greatly inspired him to further his performance.
The protagonist of the movie is also an undercover cop who infiltrates a school for drug problems. "I felt like I was that guy," Al-Hadeed said. "I mimicked some of the acting style of the character in 21 Jump Street to fit my role as the cop in the actual trial." To fit the part, the promising Officer Doherty wore a suit and a Los Angeles police officer badge.
Al-Hadeed had obtained the badge when an officer came by his house and accidentally dropped it. Without knowing where to return it, Al-Hadeed kept it and used it for the trial. He received his award at the same location where the trial was held. "The courtroom was packed with a lot of people because both middle schools and high schools were there," Al-Hadeed said. "Others were awarded as well but it was only one person per role."
"It was a gratifying experience, especially since it's my last year. To win an award like this is something special and something that's been worked hard for," Al-Hadeed said.
Leave a Comment