Biology guest speaker details ocean debris dilemma
"The waters here [off the coast of Southern California] used to be teeming with much more life and biodiversity," said Ocean Defenders Alliance (ODA) President Kurt Lieber in a guest-speaking presentation held this past Monday. Lieber's presentation, sponsored by biology teacher Dominique Evans-Bye, educated approximately 40 students on the toll that discarded man-made objects have had on local marine ecosystems and how his organization, ODA, aims to resolve this grim issue.
According to Lieber, he founded ODA in 2002 as a makeshift solution to a serious issue he had watched worsen over the years — the damage that cast off fishing gear debris have inflicted on marine life. "When I first got started, I just got a bunch of local diver volunteers together looking to resolve the same issue that I did, and began freeing lobsters from underwater traps," Lieber said.
As the marine ecosystems unofficial "clean-up crew," Lieber's organization began removing debris from sites in the Los Angeles, Long Beach and Catalina Island waters. According to the official ODA website, their group of volunteer divers have successfully removed over 1,550 pounds of net, 1200 pounds of debris, and 1200 feet of discarded fishing line.
According to Lieber, this debris removal is important because although a discarded net or line may seem harmless, it often times smothers animals on the ocean floor, crushes reefs and kelp forests (both of which are the hub of many oceanic populations) and entangles others as they swim. Consequently, Lieber stated that is not uncommon to find dolphin and sea lion bones among the net debris.
Lieber further demonstrated the severity of this issue when he recounted the macabre image of an ensnared whale he saw in Dana Point. "The poor whale came towards the shore looking for some way to be from the nets and lines, but its injuries were too severe and after two weeks the whale died," Lieber said.
By speaking to students and local fisherman alike about this pressing issue, Lieber hopes that it will further his cause. "When i was young, no one ever told me about the dangers of overfishing or the damage that improperly disposed fishing gear can have on marine life," said Lieber.
Lieber's message seems to have done just that with one of his audience members, sophomore Hayk Martirosyan. "I never suspected that things like nets could do so much damage to sea life," said Martirosyan, "or just how much work and effort is needed to fix the problem."
More information about ODA can be found on its homepage on http://www.oceandefenders.org.
Leave a Comment
About the Contributor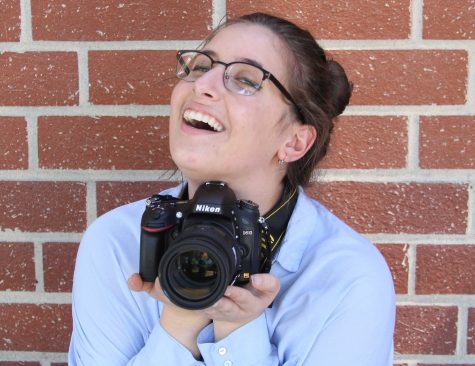 Varty Yahjian, Photo Editor
INTERESTS/HOBBIES: Avoiding all responsibilities and collecting religious figurines

EXTRACURRICULAR ACTIVITIES: Eating, sleeping and drifting in my...