Ichigo Ichie
Kakehashi Project gives GUSD students a once in a lifetime opportunity to experience Japan
November 1, 2018
Eerie serenity. It was a moment of silence that still send chills down my bones. In the blazing heat and unbearable humidity, I stood amongst a scene of destruction with my fellow GUSD students as we stared out into the endless ocean. This was no California dream; this is the story of Minamisanriku, Japan and the tsunami whose path of wreckage still lingers today.
The unbelievable opportunity which led our group of GUSD students to Japan in the first place came from the Japanese International Cooperation Center (JICE), an organization created in 1977 by the Ministry of Foreign Affairs. JICE connects with various countries to improve diplomatic and economic relations by providing special trips to Japan to its citizens.
For the U.S., JICE offers a student exchange program called the Kakehashi Project. Kakehashi, or "bridge" in Japanese, aims to continue the strong connections between the U.S. and Japan by sharing true Japanese culture with American high school students. Students from high schools across the nation were selected to attend the program, with GUSD chosen by JICE to represent California. Although competitive, 24 Clark and Hoover students were selected to participate in the Kakehashi Project for eight days at no cost.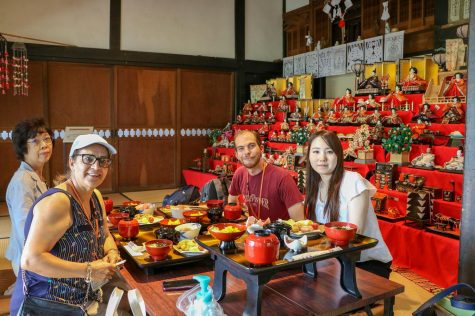 "Ever since I was six, I've always wanted to go to Japan, and the fact that it was free made me so excited," said sophomore Allen Macam. "Plus, being able to go with other people from school made it even more exciting." Accompanied by teacher Eric Kursinski, we landed in Japan on July 31. From there, we met our main tour guide, Mrs. Fujimoto, and for the first three days we — along with the other groups from across the nation — stayed at the Hotel Fukuracia in downtown Tokyo. Surprisingly, we were encouraged to explore Tokyo by ourselves, with a curfew at around 10 p.m.
Although it was unbelievably hot with the wall of humidity, the shining neon lights, crowded ramen bars and blinding taxis beckoned us to stay out and explore the urban jungle that is Tokyo. "When I saw people rushing in the station or eating very quickly at the ramen shops, it really showcased the fast paced life that people in Tokyo have," said senior Mavi Verde. Although we did have special cards to utilize in case we were lost, we were very impressed by Japan's safety and very little crime. In this year alone, Japan's crime rate is its lowest in more than 70 years. By this time, we were soaking up as much of Japan as possible, but the best was yet to come.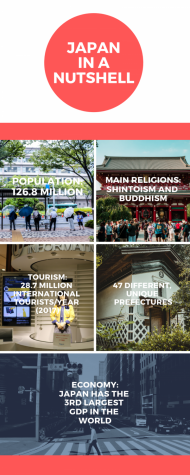 On the third day of our trip, we finally left Tokyo and embarked on our long journey to the quaint town of Minamisanriku in the Miyagi Prefecture. Part of JICE's mission is to connect foreigners to Japan's lesser known regions like Minamisanriku. Though hard to pronounce, getting to Minamisanriku was just as hard to get to. Isolated in northeast coastline, we had to take the Shinkansen, Japan's world famous bullet train, and then take a two-hour bus ride that navigated through endless forest and Swiss-like mountains.
"At first, I thought Minamisanriku was not as advanced as Tokyo," said Hoover junior Tatiana Leranian. "But that changed however when I saw its beauty as we drove along the edges of forests and near the sea." But the calm ocean wasn't always calm and its monstrous tendencies are something many residents will never forget.
Minamisanriku is most well-known for being the ground-zero of the 2011 Japanese tsunami following the Tōhoku earthquake on March 11, 2011. The tsunami was a major focal point during our stay in Minamisanriku as many villagers were killed or remain missing to this day. We met with the local government concerning the tsunami and also met a Filipino English teacher who was a survivor of the tsunami. "Her story was really sad," said sophomore Jirasorn Wongpheruks. "Being in her shoes, you feel terrible to see your neighbor being washed away and can't do anything about it." To see the damage for ourselves, we were taken to what was left of the town's disaster prevention center. On the day of the tsunami, government workers warned the locals via a speaker system across town with 40 people giving their lives to protect others.
However, the solemn moment turned hopeful. The people of Minamisanriku are slowly rebuilding. The local fish market reopened recently and new walls were erected to protect against another tsunami.
Coincidentally, both the Buddhist and Shintoist temples were some of few structures left untouched and inspired many villagers to stay and rebuild. We were able to visit one of those shrines and pay our respects. We also made kiriko, a type of Shinto prayer made from paper cutouts. Different designs of kiriko ask the Shinto gods different favors such as good health, prosperity and protection.
But that wasn't the best or most anticipated part of the trip. Day four also marked the time we would each meet our homestay parents. These would be the people whose homes we'd live in, food we'd eat and families we'd meet for the next few days. For me, my family was the Saijos, a small family with experience hosting students from all over the globe. Mr. Saijo, who prefers to be called Tom Cruise, sells tractors while Mrs. Saijo stays at home. Their son works in Tokyo, so for the next three days, juniors Nanette Kegulian, Morgan Andrews and I were their new children.
And were we ever spoiled! We were on top of a hill that overlooked all of Minamisanriku and oftentimes wildlife like deer would come around from the nearby forest. The Saijo house was enormous, with various cars, rooms, personalized wifi and even an elevator. But inside that huge house was a place filled with caring love. "[The homestay] definitely was a fresh experience," Kegulian said. "I thought it was really interesting to see how the Japanese live by getting hands-on with their culture and daily life."
JICE provided Clark students, including myself, the opportunity to meet new people in Japan as well as the Hoover students in our group. "Having the Hoover and Clark go on this trip together was a great way for students with similar interests to meet each other," Leranian said. "We were able to learn many new things about Japanese culture while having fun and hanging out with friends."
Sophomore Jirasorn Wongpheruks said that she will always remember this experience. "My dad always said that the opportunity would come one day," Wongpheruks said. "And now I can tell people I went to Japan thanks to JICE."
Mavi Verde