Verdugo Hills Hospital adventures
Volunteering at a hospital provides essential life skills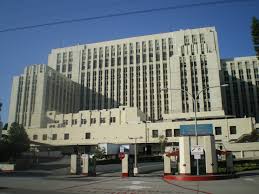 "I'm here to discharge a patient," I say to the busy nurses at the nurses' station of USC Verdugo Hills Hospital before wheeling out a patient from their hospital stay. Once the patient is confirmed to be discharged, I scurry into their room with a wheelchair — with the intimidating sounds of the vital sound monitors and the typical hospital scent following me — ready to assist him or her out of the hospital, joining in on a very exciting moment for the patient and their family.
Whether it's discharging a patient, rushing through pharmacy runs, running the building's front desk, or transferring supplies, hospital volunteers take on many responsibilities. Volunteering at a hospital comes with many benefits. Some may do it simply to receive community service hours, while others consider the helpful skills that they will learn throughout their experience as useful for college and career.
As reported by Public Health, having community service hours at a hospital can speak a lot for one's commitment to their community. In fact, according to Public Health, being a volunteer makes you 27 percent more likely to be able to earn a job or internship compared to someone who does not have experience with helping their community. Volunteering can also help one familiarize themselves with others in various fields of the medical profession, learn new skills, and get a feel for what working is like.
For a fellow hospital volunteer, Frances Mejia, a Clark Magnet junior, volunteering at the hospital is the perfect introduction to a potential career. "I chose to volunteer at the hospital rather than anywhere else because I wanted to see what the medical environment feels like. I want to be a physical therapist in the future and so far, volunteering makes me enjoy the medical field even more since I like helping people," Mejia said.
"Volunteering at the hospital comes with a lot of benefits. It trains you for work life, you're given responsibilities, and of course the opportunities to adapt to new challenges in a working environment," said John Nelson-Laudun, USC Verdugo Hills Hospital Volunteer Associate. Nelson-Laudun has had two years of experience working with volunteers and managing their many tasks.
Some high school students who started off volunteering at a hospital found a love for the medical atmosphere and turned it into a career. Tom Kang, now a first-year general surgery resident at the Good Samaritan Hospital in Cincinnati, Ohio, he started off his medical interest by volunteering at Verdugo Hills Hospital. "The roles I played were very small — insignificant may not be an understatement — but I truly believed that you had to start low if you wanted to get higher, said Kang, a Clark Magnet H.S. graduate.
"Quite honestly, I volunteered for the sake of volunteering. I just enjoyed spending my time at places where I felt like I was contributing to something. In high school, my role consisted of patient transport and specimen delivery to labs," Kang said. "Throughout college, I continued to work at different hospitals and went on a couple mission trips to Haiti and to Guatemala."
Starting off as a volunteer, especially at a hospital, can be intimidating and quite frightening. Prior to working at the hospital, many nervous, yet exciting thoughts raced through my mind, especially as a huge Grey's Anatomy fan. Although I've come to realize that a hospital setting doesn't give as much of an adrenaline rush as it seems to give on TV, it's still an eventful three hours each Monday when I volunteer.
A typical day of working at USC Verdugo Hills hospital is hectic. Although I enjoy volunteering, by the end of each of my three-hour sessions, I'm completely worn out. From the moment I walk into the building in my volunteering attire — a navy polo, white pants, and the USC volunteer apron — to when it's time to clean up, I have conquered many tasks and most likely have learned a multitude of things.
My favorite volunteer task is the pharmacy run. Pharmacy runs are very simple. Volunteers are ordered to head to the hospital's pharmacy located on the third floor and collect all the medication bags that need to be distributed. Each medication bag has a sticker identifying which floor's nurse station it needs to be taken to.
The only unfortunate part of the process is the long elevator waits which can be maddening at times. Besides the fact that it's one of the easier tasks, I enjoy doing pharmacy runs because it helps me familiarize myself with the various sections of the hospital, allowing me to decipher which area of the medical field I would find to be a best fit.
I am also very fond of discharging patients because it allows me to meet new people, putting a bit of positivity into their day since it is likely to have been through some challenges while hospitalized. I especially love discharging new mothers from the labor and delivery unit because of the joy seeing the newborn babies brings which definitely uplift my mood. It's exciting be able to scan into certain rooms within the different units of the hospital using your own identification card — including the Intensive Care Unit, Labor and Delivery Unit, Transitional Care Unit, among others.
Surya Santhosh, Clark Magnet junior, and another volunteer at USC Verdugo Hills Hospital enjoys discharging patients during his service hours. "I like discharging patients because it lets me see new people and be helpful at the end of their hospital visit," Santhosh said.
In general, community service among teenagers is very common. According to the Corporation for National and Community Service, approximately 15.5 million teenagers participate in various volunteer programs throughout their middle school and high school years. Every year, youth contributes an estimated 1.3 billion hours into helping their community. USC Verdugo Hills Hospital reports that approximately 200 active volunteers, ranging from the ages 16-95, are helping out at the hospital at any given time. Also, according to USC Verdugo Hills Hospital, last year, volunteers were able to exceed 34,000 hours of volunteer service and raised around $60,000 in funds through working in the gift shop.
"Volunteering here at the hospital has a lot to do with trying something new and being able to figure it out all on your own," said Nelson-Laudun while reflecting through his experience of working with volunteers. "I think that self-efficacy needs to be developed, because it's clear that many students don't carry that trait."