"Barking" at an opportunity
Dog-sitting is not an easy job
December 11, 2017
"Simone!! Please slow down, I'm about to…" "Bam!," I screamed as I was walking Simone, a Whippet, for the first time. At this very moment, as I was walking Simone in Beverlywood, California, I considered quitting being a dog sitter but then realized that no one else would take my place.
Being a dog sitter is not the toughest job in the world, especially if you love dogs, unless you fall over and scrape your knee while walking one, like I did. With over 89 million dogs in the United States according to statista.com, the opportunity for me to become a dog sitter and take care of one was very high.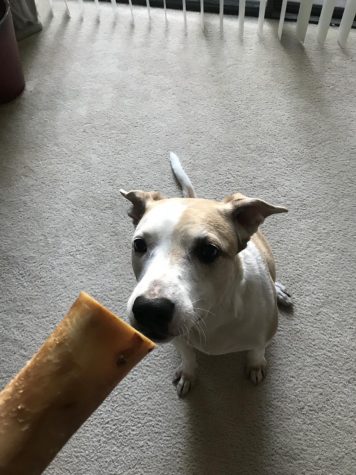 On average, about 60 percent of Americans own a pet, and of that, 73 percent own dogs, according to gallup.com. With more than 44 percent of the nation owning a dog, the dog sitting business seems promising, but unfortunately it proved to be very difficult when I recently tried it out.
The truth is, however, that few people want to hire dog sitters. "I don't find it necessary to hire a dog sitter for my dogs. I don't trust strangers in my house let alone taking care of my dogs," said Christineh Antinian, a junior and owner of three dogs. "I would ask a relative if I am in desperate need of one."
Others don't want to pay much for a dog sitter. On the popular dog sitting website, Rover.com, an overnight dog sitter can cost up to $65 per night. Others, simply do not pay for one; however, a teenage dog sitter helps save dog owners some money. A dog owner can save up to 70 percent by sticking to a local, teenage dog sitter compared that of a dog sitter from Rover.com according to prices on Rover.com. The teenager, in return, receives experience of how a job works.
An obstacle with being a teenager without any work experience makes finding clients more difficult. I tried to convince every dog owner I know that I was in fact a good candidate. Many of them told me that it was not me they did not want, but that they in fact did not need one at the moment, or at least that's what they told me. According to a survey of 30 people I conducted last month, 12 students said that they would in hire a dog sitter who was a teenager. 16 said that they would only hire someone who is an adult or if the teenager was a close friend.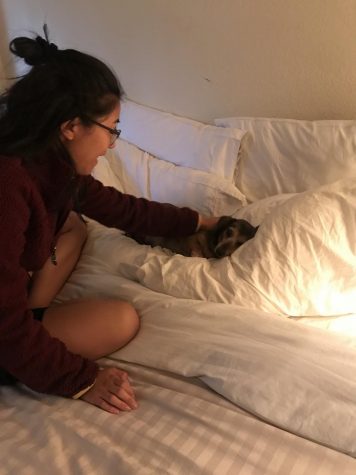 Even dog sitters with experience seem to agree that initially finding a job as a teen can be challenging. "It's really hard the first time around," said Marie Sarsonas, a dog sitter who sits in Glendale during her free time. "I started dog sitting when I was 18 years old and getting my first job was tough. I had to dog sit a cousin's dog just so I could say I had experience."
In September, one family-friend needed me to watch their dog for a day, and that was the biggest breakthrough ever. "I am very picky when it comes to hiring someone to take care of my dogs. I don't just hire anybody," said Jose Delfin, a full time caretaker and owner of four dogs. "I had hopes that my dogs would be treated well, but will admit that I was hesitant to hire a teenager with first time… I am very relieved that my dogs are still alive," Delfin said after having dog sat his four dogs.
With this first job of mine, I gained experience on the struggles of taking care of a dog and how much work goes into it. I only dog sat him for a day, but that was great exposure. Ever since then, small jobs like these came around every so often.
Over Thanksgiving break, my biggest opportunity as a dog-sitter came: a friend of a friend needed someone to take care of two of her dogs for two nights and two days. This opportunity tested my abilities as a dog-sitter of two months and I was ready to take the challenge.
The first day was tough. I found that many of the supplies I needed for playing "hide-and-seek" could not be found when I needed them. The first thing that I needed to do was walk Simone so that she could relieve herself outside. Of course, I could not find the leash nor the trash bags for the walk. Simone had become very agitated and restless, and started whining and crying and started to scratch the door. I eventually found out that the trash bags were behind the cabinet door the entire time and ran outside.
After doing her business, Simone decided that it would be best if we both ran for the next few blocks. She is a big dog, and so running with her was a huge challenge. She has so much energy and so much force that she made me fall over! At least I got my workout routine done for the day.
Once I got back to the house, I had to help clean Harley, a 17-year-old miniature dachshund, and his room. Since Harley is an older dog, he has congestive heart problems, is partly blind, and has bladder issues. He needs trainer pads on the floor and food that requires no chewing but is healthy enough for his heart problems.
Unfortunately, the trainer pads were not where they were supposed to be. It took me 20 minutes trying to look for them. Next, both of their foods needed to be cooked on a stove top. There were two different types of meat for the dogs and there was no note to say which one was to be cooked on which day or how many was to be distributed to each dog. I had to use common sense and figure out that the one on top was most likely the one to be cooked and that Simone, being the bigger dog, would get more food.
On the second day, the worst possible thing happened: the key that opened the house broke in half! That meant that there was no way we could leave the house at all to get food or to go on a walk. While I walked the dogs or took them out, my mom had to be at home watching the house.
Nonetheless, on the last day, I got used to these dog's routines. I felt a sadness wash over my heart, for I had gotten to love both Harley and Simone. I really wanted to stay for an extra day, even without pay. "Honestly, I think they missed you so much because I came back and they weren't happy to see me at all!" said the dog owners of Harley and Simone, Grace Miller.
I shared this sentiment with Sarsonas. "In my opinion, the most difficult part of being a dog sitter is leaving your new furry friend," Sarsonas said. "One time I had to take care of two dogs for three weeks and leaving them made me cry. I am so grateful because who else can say that the biggest problem in their job is saying goodbye to dogs? I think that dog sitting is a great job and I wouldn't trade it for the world."