Adventuring through production
Middle school drama program provides production opportunities for Clark students and drama experience for Wilson students.
February 23, 2015
As I sat through a rehearsal and heard the drama teacher, Barbara Zatarain, telling the Wilson Middle School students to project their voices, all I could remember was the play I was in when I was in that class in 7th grade, Happily Never After. The greatest gift you could possibly give a theatrical actor is feedback and notes during rehearsals, feedback which they can later use to better their performance.
"You need to give more facial reaction at the part where Dora surprised you," I said to one of the actors as they listened intentionally and scribbled down notes. "Also, don't let your eyes wonder when you are speaking to another character, make it look realistic. When you have a conversation with someone, look them in the eye."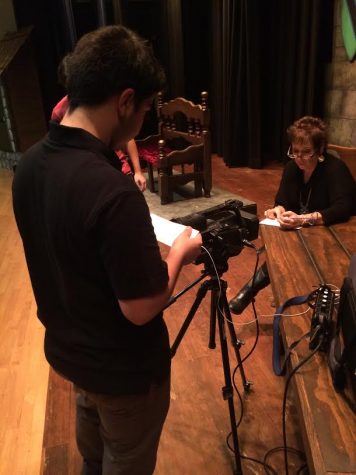 Nothing is ever perfect, but it sure can come close to being so. For theater, practice is everything. Since you're performing in front of an audience, there's no going back if you make a mistake. You've got to roll with it, or improv; try your best to make the mistake unnoticeable. "The more you rehearse and feel comfortable with the scene, the easier it'll be for you to get on stage and perform," I told one of the young actors backstage during a rehearsal.
This year, thanks to the cinematography program at Clark, I was given the opportunity to direct the broadcasting of the play, The Ugly Duckling Princess, at Wilson Middle School and put it on television. "It feels pretty cool having our play be broadcast because we get an advantage over other kids to advertise something we love so much," said Jamie Fritz; a seventh grader at Wilson Middle School playing the lead in the play, Dora.
The pressure that came with this job was very intense. I've come to learn that if you get all the elements done correctly during pre-production, everything else simply turns out well at the end. It was my first time directing a production completely by myself and it's an experience I will always remember.
From making sure all the equipment is there and tested to blocking our shots, putting up a production isn't as simple as it seems. All the little things that come with the job can add up to be a ton of work, but if you pace yourself and make sure you double check everything ahead of time then it'll all be fine at the end.
The key for a successful production is to know the content you are filming; with that comes volunteering at rehearsals. At rehearsals I got to watch the blocking of the production and learn all the cuts and cues which helped me fully comprehend the play.  Being a former student in Wilson's drama program, I remember how much pressure came with the play itself and how important everything was. "There's definitely a lot of pressure that comes with performing on stage, but it's all worth it at the end when you see how amazing it turned out," said Nune Karakhanyan, a seventh grader who portrayed the role of Nora in the production.
"Student volunteers are a great help to not only me, but also the actors," Zatarain said. "They know exactly what I need and help get rid of some distress. But more than that, they are mentors to the younger kids. When an ex-student gives the kids feedback it really means alot to them, and they take it seriously knowing they've been where they're stepping." Zatarain has been the theatrical teacher at Wilson Middle School for about 15 years.
"It helps the student mentors because the greatest way to reinforce something you've learned is to teach it to someone else," Zatarain said, explaining the importance of having student volunteers come back and help.
Pre-production is really the most important part of the whole process because that's when you get the crew together, figure out all the details and make a schedule to list of everything that's going to happen. During pre-production we assigned everyone their jobs, fully blocked the script, double tested all our equipment, and figured out all the other minor details prior to the production date.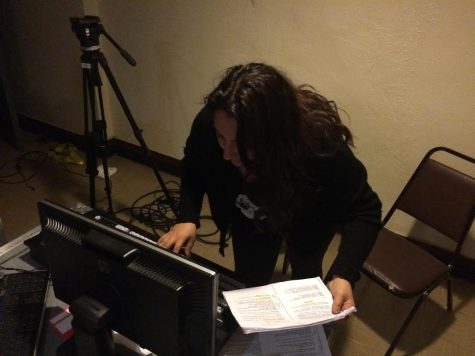 In cinema, Murphy's Law is often a factor: "Anything that can go wrong, will go wrong." With this in mind, we are expected to have a backup plan for everything incase something really does go wrong. Most of the time it's minor set backs that can be fixed easily, like during this production we were missing an extension cord for one of our cameras. Luckily, after 30 minutes of running around the school campus, we found a spare with the help of security at our location the day before.
The actual day of production was quite stressful itself. From running around backstage to white balancing cameras, my crew managed to be up and running right on time for the production to start. During the actual production, I was focused mainly on getting the right shots and giving commands to camera operators. Even though we could go back later on and edit out any cheats we needed to, the pressure to call the right shots was certainly there.
"Camera two, go in tighter and camera three keep a steady shot. Make sure you keep focusing it we every change of scene. Ok, now cut to camera two and hold steady," I said to the camera men over our communication systems.
"
Camera two, go in tighter and camera three keep a steady shot. Make sure you keep focusing it we every change of scene. Ok, now cut to camera two and hold steady"
— Dianna Khudoyan
"It was a great experience to be a part of this production," said Tristan Mouradian, a junior from Clark and camera two operator. "I would happily do it again. I really missed this theater, and being a former student, I'm happy to be back."
According to the National Education Association, many schools are undermining the importance of art programs like theater and music, and many of these programs are being cut out due to budget constraints in school districts.
In Glendale, the Glendale Educational Foundation offers financial support to visual and performing arts to Glendale public schools, helping to support programs such as the Wilson drama program. "Arts and theater are very important to younger students because it helps them interact and communicate with each other while they're working on a production," Zatarain said. "A play obviously requires teamwork, and through it students learn communication skills and open up a little more. Another big thing that comes out of it is that it teaches the students critical thinking when they're trying to understand and comprehend their characters."
I can genuinely say I feel honored to have had the chance to televise something that really helped me when I was younger and show all the hard work that the kids put into it, especially at a time when arts programs are struggling. According to the Education Home Room, arts programs available in public schools have dropped from 20% to 4% in the past ten years.
Arts programs may be slipping through the cracks in some parts of the country, but programs such as the drama program at Wilson show how time and money can help create memorable experiences for young people. Despite the need to raise awareness for performing arts throughout the country, generous donors in Glendale help ensure that students are provided with an opportunity to take performing arts classes if they wish to.
"This class helped me realize how much I love theater and acting," said seventh grader Jamie Fritz. "Hopefully I get the chance to continue this when I get older and show everyone how important this program is."