Publishing, without the paper
Everything is becoming accessible online. Including books.
December 16, 2014
I think too much and speak too little. Because of that, my mind works differently from a lot of people my age. I prefer books over people and being alone over socializing. Being with my peers is passé; what can you learn from them that you can't learn yourself?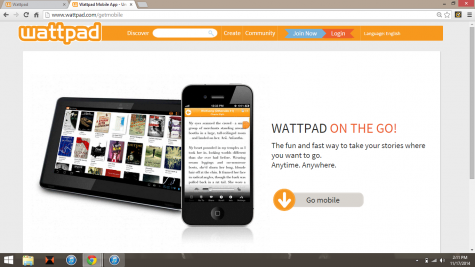 That's probably why writing ended up becoming my favorite pastime. It seems strange; usually you write only when it's assigned for homework, not during all of your spare time, like I do.
When I was nine (after reading the entire A Series of Unfortunate Events series in a week), I hit a wave of inspiration and ended up writing my first book, a crime drama with way too many characters. It was good at the time, but now, not so much. I mean, my mom was proud of it, but I knew there was still work to be done.
Thankfully, I progressed from there —  three years later, I hand-wrote (WITH A PENCIL AND A PACK OF LOOSE-LEAF BINDER PAPER) a 300-page book (about One Direction, sue me). I did the same thing two times after that. I wrote some stuff on my computer. I just kept going, knowing that my friends at the time seemed to like the now-garbage things I wrote. I didn't care about how many readers I had. That was before the Internet changed my perspective.
After a failed stint at a now-abandoned website, where I wrote these ridiculously bad stories about emo band members (it was a phase, I swear), I discovered the joys of a place called Wattpad, where you can read all kinds of stories written by other people (who generally aren't professional writers), and also write some of your own — whatever you want. And it's all for free. Who doesn't like free things? That's right. No one.
According to their website, Wattpad has (approximately):
-75 million readable stories
-35+ million users
-nine billion minutes worth of monthly visits to the site
-and an 85% mobile usage
The online platform revolutionizes a new type of reading. Not only can you read books on the Internet, but you can also read them without an Internet connection, provided you have an account and save the "book" to your library. (This feature is only available on mobile devices or tablets.) Say goodbye to depending on Wi-Fi, also known as Wireless Fidelity, pronounced as "every teenager's life source." Wattpad saves the day when boredom strikes and there's no Internet available.
I signed up for an account and began typing up the newest book I had come up with (it's still up there, somewhere — props to you if you can find it), and within about two months or so I had already gotten about a thousand views. That's the hardest part of it — to get people to read your story. The trick is to read other people's stories and put yourself "out there," and bring attention to yourself and your story, without being annoying, which will drive away potential readers. It takes a lot of time and effort, but it's worth it when people start following and interacting with you.
I thought I was the only one I knew who actually published work on Wattpad, until I found a kindred spirit in junior Nairi Simonyan, who also writes her own stories.
"I've been on other writing websites, and none of them are as organized as Wattpad," Simonyan says. "I've had an account since 2012. It provides real opportunities for writers — they're getting picked up by really good publishers. It's so cool, it actually gives you hope because it makes you think that if I make my story good enough I'll get noticed by a publisher."
You can write whatever you want, be it original stories, or fanfiction, which are works written by fans about a specific person/group/topic. Simonyan, a writer of both original and "fic" (slang for fanfiction) work, describes the latter by saying, "Fanfiction is a double-edged sword — they're either so good you wished they were real or you wished you could erase your memory, because they're so bad, or you wish you were blind so you'd never have to read it again."
Online publishing is slowly overtaking print, what with the new e-readers like the Amazon Kindle and the Barnes & Noble Nook, and the iBooks app that comes with nearly all Apple technologies. Sure, it's not as satisfying to turn off your device when you finish a book than actually closing a physical copy, but an electronic gadget does conserve space.
You can even make an occupation out of online publishing by writing things and putting them up on a website. Take Clark alumna Lauren Tharp, a former member of the Publications staff, whom I interviewed over email.
"I always knew I wanted to be a writer, but I resisted making it my career for a long time," says Tharp, former head writer of the late Clark Chronicle. "My parents are both artists so I had first-hand knowledge of exactly how insanely hard life as a freelancer can be. I did not want to follow in their footsteps! So I kept floating around from one crappy job to the next, simply based on the fact that the pay they were offering – whether it was retail or fast food – was 'steady.'
"But, in 2010, I found myself unemployed and I had to make a choice: Choose yet another crap job that I didn't care about…or finally, finally give writing a chance. I chose the latter, and opened up my business, LittleZotz Writing, in August of that year. I'm so glad I did!"
Online publishing is the easier route, in terms of getting your work out there, especially with books, since the getting-a-publisher-to-like-your-book process might as well be trying to study for all your finals in one night (virtually impossible).
Tharp advises, "If you're looking to get a novel published, you might have a hard time – mainly because it involves a ton of waiting around. It's a lot of work. To be honest, self-publishing is a great way to go in this arena. One of the things book publishers look for is whether you have a 'platform' – people already reading your books – that they can market to. And if you self-publish a few books on your own, you can assure them that you do, indeed, have readers. But that means you'll have to do the bulk of the marketing on your own."
"
If you're looking to get a novel published, you might have a hard time – mainly because it involves a ton of waiting around. It's a lot of work.
— Lauren Tharp
One of Clark's own teachers, math teacher Geoff Woods, has had his own book published online. "It was my only choice," he says. "There's so much competition today. In order to get your book published, you need an agent to present your work to a publisher. I didn't have an agent, and didn't know how to get one."
Woods considers this process (which took six years, from the inception of the book to its actual publication, and only one-and-a-half from submitting the book to its publish date) as a good experience. "I wasn't ripped off or anything," he says. "All I had to do was submit it to the company, and they either accept your work or reject it. They accepted mine. After that, I had to follow some steps they gave me, and I had the opportunity to talk to a consultant, who wasn't on-call — you had to pay for extra consultations, advice, and/or editing, and it would be your choice to listen to them or not. I did consultations twice." Woods' book, A Case for Wisdom, has been available on Amazon since October 22, 2012 (and has a five-star rating).
Even though there are advantages to the updated, modernized method of publishing, there are still downsides to it. English teacher Maral Guarino is just as, if not more, passionate about books than Woods — yet she sees a downside to breaking away from traditional print.
"I don't like [eBooks] simply because it takes away from the experience of reading a book," says Guarino. "love everything about reading, from the smell of the pages to the satisfaction of closing a physical copy when you're finished."
However, she did share a story about Maurene Goo, a YA (Young Adult) self-published author who paid a visit to Guarino's Creative Writing class. "Maurene said that online publishing was better than the other route. When she was writing for an agent, she couldn't write anything. Her creative juices couldn't flow. But when she began writing for herself, there was an improvement. She was happier with her work."
So yes, maybe you like the way the pages of an actual book feel or smell, or maybe the smell of a book's binding is oddly pleasing to you (I don't judge), but with the way things are going, books will be published online more and more. As Guarino puts it, "That's how everything's going to end up, anyways."