Seniors' final days
Class of 2021 manages to celebrate familiar events by graduation
June 8, 2021
It was mid-May. There was either about a month left of school or two weeks left –– depending on one's school system. Since college acceptance letters were sent out two months ago, most students had already committed to a college. At this time, students were learning about their class ranks. For the lucky few, they were declared valedictorians.
Granada Hills Charter High School senior Kerry Sempelsz was one of these students. Granada Hills Charter is a competitive, top-ranked school. As such, the school produces many valedictorians each year.
"We have a lot of valedictorians [this year] –– more than 100 –– so I was proud and excited to be one, and make that achievement," Sempelsz said. "I also knew there were a lot of other hard-working, brilliant people alongside me."
Sempelsz will be attending UCLA in the fall. There, he will be double-majoring in Civil and Environmental Engineering.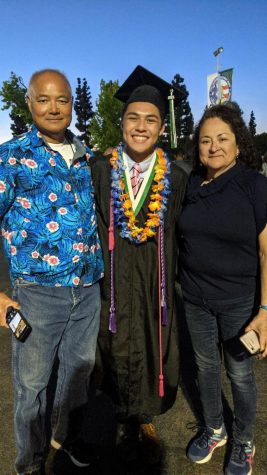 Besides learning about their class ranks, students were also being bestowed with awards that contributed to their high GPAs. Clark Magnet's Awards Night on May 19 was one instance that celebrated seniors' achievements.
This day was a particularly eventful day for Clark Magnet High School seniors. Earlier that afternoon, seniors had presented their senior projects at the Oral Board –– albeit with some technical difficulties. Regardless, the enduring senior projects were finally over.
An hour after the presentations ended, the attending seniors and their families were gathered at the amphitheater for Awards Night. They were at the bottom of the place or on its steps, respectively. Before the actual event commenced, some students were huddled together while others waited at their designated seats.
Senior Michaella Reyes greeted her friends and made sure her parents knew where they sat. "It felt kind of surreal to finally be back on campus," she said. "The mood of the ceremony was dismal, but it was great seeing friends, classmates and staff again."
Minutes before the ceremony was about to commence, math teacher Amir Ghavam walked through the rows of students, reminding them to take their seats. Like Reyes, Ghavam also was grateful to see everyone reunited on campus again.
Clark's first Senior Awards Night since COVID –– so two years ago –– went off with only a couple hitches. Principal Lena Kortoshian mistakenly said "Class of 2011" at one point. Some students wound up awkwardly remaining standing past their cues. The rattling of the flagpole cancelled out the sounds of the speakers.
After the main event, friend groups proceeded to take pictures together while others rushed off to take photos with Ghavam.
Three days after Clark's Awards Night, Glendale High School held its own event. Although this particular event was not senior-oriented, the Glendale Dance/Drill Team Revue did allow the seniors to compose their last performances.
The banners along the perimeters of the school football field were set up. The chairs and the accompanying seating arrangements were ready for the audience to occupy. This day marked the Glendale High School's Drill Team's long-awaited event. They performed over 50 routines. Numbers were either presented on-stage or done virtually. Besides the routines, certain dancers performed group dances, duos, and trios.
To prepare for this event, the team held hours-long practices all last month. Some practice days even lasted over eight hours. During that time frame, the team also converted their competition videos into stage routines.
When the Saturday event rolled around, the team was prepared. The event went as planned. "The highlight of the event was being able to dance as a team together," said senior Desiree Lim, one of the team's captains. "A couple months ago, [this] was seen as impossible."
On this seemingly impossible night, the seniors managed to compose their final routine. "This was the proper sendoff that we needed," said Lim. Also on this night, the lowerclassmen were able to experience the feeling of running a show since the pandemic began.
When one thinks of high school send-offs, graduation is often the first thing that comes to mind. For Holy Family High School's seniors, graduation was on the forefront of their mind on May 28. After all, this was the day that they themselves were graduating.
Unlike prior years, Holy Family's graduation was a combination of a Baccalaureate Mass and a regular graduation. Also introduced this year was the mandate that seniors sit in the pews with their families rather than with their fellow classmates.
During the three-hour-long graduation, all attendees continually wore their face masks and maintained six foot distancing. Because of this forced distance, the students admittedly felt also figuratively distant from each other.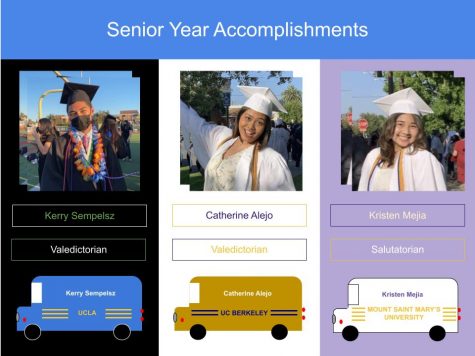 Senior and valedictorian Catherine Alejo described the graduation as "anti-climatic." "[The graduation was also] hectic," she said. "We only practiced [for this] the day of."
To compensate for the underwhelming graduation, Alejo, senior and salutatorian Kristen Mejia, and their friends took group pictures together for their socials. They also opened gifts together, which improved their moods.
"Knowing my parents were proud of me [for graduating]," said Alejo, "made me feel relieved and feel better."
In the fall, Alejo will be attending UC Berkeley where she will be majoring in Microbiology. Meanwhile, Mejia will be attending Mount St. Mary's to study nursing.
With the 2021 school year finally concluding, seniors reflect on the year post-graduation.
"[I'm] really happy it's over, but also kind of sad I didn't get most of my senior year," said Alejo.
Mejia shared these opinions. "My senior year definitely didn't go as planned," she said. "I missed seeing my friends everyday and it was hard learning through distance learning."
However, Mejia also gained some good out of her situation. "When I finally got to go back to school, I was so happy to return to even an ounce of normalcy," she said. After all, she was able to reunite with her friends, experience prom, and have an in-person graduation all before the year came to a close.
"If I had learned anything from my senior year during COVID, it would be to cherish every moment I have with the people I care about," she said. "You never know what unexpected thing might happen next."