How distance learning caused a cheating pandemic
June 6, 2021
Academic dishonesty. It comes in many shapes and sizes: cheating, plagiarism and grade fabrication. Even failing to acknowledge citations and complicity can fall under the category of academic dishonesty. Although cheating and its brethren will always be a problem for academic institutions, remote learning brought on a new tide of academic dishonesty. The beginning of the coronavirus pandemic that started in March 2020 has seen an increase in cheating and other forms of academic dishonesty.
The explanation for the rise in cases seems quite obvious given that students have remained at home during distance learning, meaning students have access to multiple devices with internet, unauthorized notes and online communication. The access to these can remain undetected since they can be easily hidden.
There is no shortage of academic dishonesty cases popping up in the news. Earlier this year, a group of Cal State Los Angeles (CSULA) students participated in a group messaging app where they shared answers but were outed by a fellow member. Another case involving the University of Michigan also headlined, with a similar problem being with answers being shared in online group chats.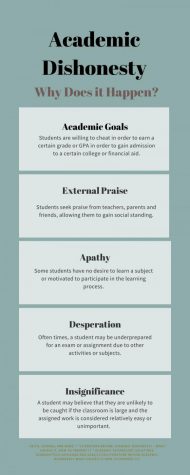 "Yeah, I guess [academic dishonesty has become more prevalent]. As to why, it's because school can be boring and [cheating] makes the pointless stuff easier to deal with," said Moises Quinonez, a senior at Hoover High School. Quinonez also said that he hasn't seen any anti-cheating measures enforced by his teachers, which he cites as an additional reason for the rise in cheating.
Most teachers have come to a similar conclusion. Math teacher Fred Blattnerr also believes that cheating has increased due to online classes. "I am not sure if remote learning has been a contributing factor lately, but I suspect that it is. Students have cheated ever since there have been grades and degrees because people tend to want to find the path of least resistance," said Blattner. His perspective is not uncommon in the teaching profession, as a Wiley survey from May 2020 also found that 93 percent of instructors also believed that cheating was more likely online than in-person.
With teachers and students both being aware of the increased chance of academic dishonesty, the two groups have come up with countermeasures. Students are easily able to search up questions online and find answers on uploaded PDFs, Quizlet sets or other websites dedicated to answers. Some websites that host homework answers like Brainly have crowdsourced answers and are free. Other sites such as Chegg or Course Hero have more extensive and complete lists of answers that can be found, but at a premium price.
Teachers found their own way of responding with programs such as Turnitin to detect plagiarism or they have different test forms. "Schools and teachers must make it more difficult (multiple versions of tests/assignments, careful examination of written work, anti-plagiarism software, etc.), but we must also convince students that they stand to gain more by not cheating than they do by cheating. We have never been 100 percent successful at that," said Blattner.
The Wiley survey also showed instructors leaning towards having proctors monitoring students via webcam and using lockdown browser as viable anti-cheating options. Vahe Haleblian, a Clark senior, has found a variety of methods that his teacher used that he believes is effective. "Teachers have been using quizizz to prevent cheating, by reducing the test time, and not allowing kids to check their answers after having answered it," said Haleblian. "Schools can also request teachers to mandate students to turn on their cameras during class."
The zenith of distance learning is coming to an end. Universities and high schools are expected to return to distance learning by fall 2021, with some districts like GUSD already offering partial in-person learning for students who requested. Despite this, academic dishonesty will continue, even if the pandemic dies down. Cheating for an extended period of time does have its personal consequences, even once school is over.
"Academic dishonesty can lead to students having poor study habits, especially after having to come back to in-person classes," said Haleblian. Academic dishonesty also devalues education and learning, as students will come to believe that learning is meaningless, and even increases the chances of succumbing to peer pressure.
"We must do what we can to convince [students] that it is in their best interest to leverage their own abilities," said Blattner. "People make most of their decisions out of self-interest."