Body shaming: A rising problem in teenage culture
Your body type does not define your worth
December 12, 2020
Upon waking up bright and early in the morning, two perfectly healthy teenagers decided that they want to wear tighter clothes to school. They both look into the mirror and are excited to showcase their outfits around school for the entire day.
Once they arrive in class, they are faced with something that shocks them: everyone is staring and laughing. "Hey, look, your rolls are popping out," says a classmate to one of the teens. "Whoa, you are way too skinny to be wearing that type of clothing," says another classmate to the other teen. Afraid of what the rest of the room thinks about them, they run to the restroom, crying.
They once again come across a mirror; the object that just minutes ago they were cheerfully smiling into has now become their worst enemy and they are using it to pick at every little thing that they believe to be an imperfection. Eventually, they stop staring at themselves, but they will continue thinking of their body image for the rest of the day. For some teenagers, this is just a glimpse of their never-ending cycle.
This act is often referred to as body shaming. Defined by Cambridge Dictionary, the meaning of body shaming is "criticism of someone based on the shape, size or appearance of their body."
"Body shaming has become such a negative part of our generations' culture, and it's seen so often either in person, or on social media that it's becoming, unfortunately, unavoidable," said Jimena Vildoza, a Crescenta Valley High School junior.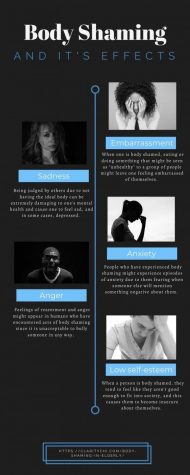 Teenagers now-a-days have a very clear perception on what the "perfect body" is supposed to look like. For girls, it's having a flat stomach, no acne, big breasts, big glutes and a curvy body figure. For guys it's having a toned and muscular body, perfect teeth, no acne and a tall appearance.
With this picture in the back of their heads, most teenagers are quick to judge, and when they see another teenager that doesn't meet the criteria above, they immediately assume that that person is unhealthy and unattractive. According to a study conducted, 94 percent of teenage girls and 64 percent of teenagers have encountered some form of body shaming. These numbers are significantly high, yet they continue to increase on the daily.
Social media plays an important role when it comes to body shaming and how one feels about their own body. Teenagers are constantly scrolling through apps such as Instagram and TikTok where they are faced with images and videos of a variety of models that have features that can be found in the "ideal body." Once they see pictures of these models, they can't help but compare themselves to them which causes teenagers to eventually become extremely insecure with themselves.
What teenagers who body shame others or body shame themselves fail to realize is that teenagers are still going through puberty and have not fully developed yet. It is unrealistic to think that kids between the ages of 13-17 can obtain the "perfect body" when they clearly are in the process of growing.
Narbeh Der-Gevorkian, a health teacher at Clark, believes that body shaming is just another form of bullying and it should not be tolerated at all. "Since developmental years, both physically and mentally, for teens are vital, body-shaming can take its toll both mentally and physically, causing the individual to have low self esteem, change their eating habits, develop eating disorders, and halt both physical and mental development," Der-Gevorkian said.
Another point that teenagers fail to see is that they are comparing themselves to models who are much older than them and have trained their bodies to look slim or muscular, since it is their job. Many of these models have also undergone cosmetic surgery to get rid of their own insecurities.
Being body shamed can be extremely harmful to young adults. In extreme cases, teenagers can end up suffering from eating disorders. Some teenagers will avoid eating for long periods of time and when they can't take it anymore, they will start to binge eat. Others can end up developing a harsh case of bulimia.
"Although teenagers should try to be mindful of what they are consuming, it is important to understand that at the end of the day it is not about how you look in the mirror," said Laura Martinez, a former Gold's Gym nutritionist. "By not accepting your body you run into depression, negative thoughts, eating more sugar, eating unhealthy, and you then feel the need to have the perfect diet to be accepted into society. Truth is, no one eats perfectly. Teenagers shouldn't worry about their looks and instead should focus on loving and caring for themselves."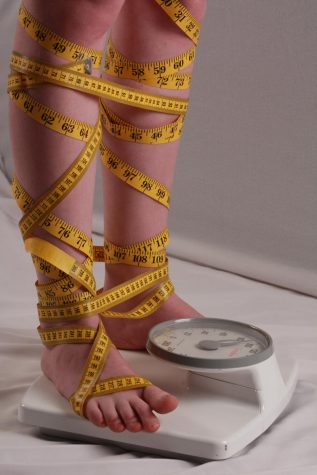 The act of body shaming teenagers can also develop mental health issues. Some of the common mental problems that can occur as a result of body shaming are depression, stress and anxiety. All these issues will have a negative effect on the life of a teenager and it will all have been because of body shaming.
With the rise of body shaming, social media influencers have tried their best to start normalizing all their "flaws." Influencers like Brooklynne Webb and Sienna Mae Gomez rose to fame on TikTok for constantly trying to normalize different body types and showcase how every single teenager should feel special and treat their body as though it was a valuable piece of art.
Celebrities such as Lizzo, Jonathan Van Ness, Billie Elish and Lili Reinhart have also joined the movement. These celebrities are constantly challenging societal norms in hopes of communicating to teenagers the importance of self-acceptance and self love.
All genders are constantly pressured by society to meet certain beauty and body standards, which will only end up harming young adults. "Being different is not a bad thing, it's unique," said sophomore Alexa Camanag. "We should love our body and ourselves. We should feel free from all the negativity that is produced by body shamers. Instead of body shaming, we should focus on making people feel appreciated and beautiful."