SATs, hit or miss?
Colleges reject the SATs amidst controversial debates
November 28, 2020
Christine Nguyen, a junior who was scheduled to take the SATs prior to the coronavirus outbreak, has altered her agenda now that testing seems unlikely.
"I was going to begin studying for the SATs using Khan Academy and practice tests, but now that it's probably cancelled I've held off on that," she said. "It's given me more time to focus on my other studies and not stress about the SAT." With her duties as co-president of the GEARS club along with taking four AP classes, not having to take the SAT was a relief for Nguyen.
As of 2020, SAT testing still seems to be proceeding, with the proper precautions of course. Scheduled test dates include Dec. 5, March 13, May 8 and June 5. Available subject tests for these dates are available on the College Board website. Testing centers have limited capacities and individually decide whether they will offer testing, having the option to close their administrations at any given time. Despite all this uncertainty, students who registered still have options available to them regarding test taking.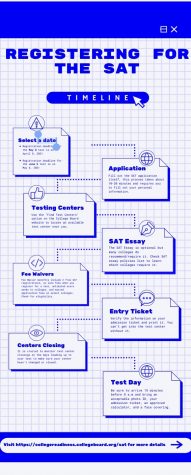 Not only has the coronavirus altered the atmosphere for testing, but this past March the University of California announced they are suspending the ACT and SAT tests as an admission requirement until 2024. Applicants in 2023 and 2024 will be given the option to submit their test scores; however, it will only be considered for course placement and scholarships. "I think this is justified because there have been quite a few studies showing that people living in more affluent places get better scores on the SAT and it isn't really an accurate representation of someone's intelligence," said junior Emika Davis.
Last year's juniors were also unable to take their SATs due to the coronavirus outbreak, and the UC's recent announcement has changed the views of some students on the test itself. "My SAT got cancelled because of Covid and I didn't bother signing up to take it later since it's not a requirement for most universities," said senior Sonia Aydenjian. "I've been putting more thought and time on every other aspect of my college application since those are going to be weighed more now without the SAT."
According to research done by the test's creators, a student's overall high school grades and class rank are a better indication of academic success than the SATs. Amidst the controversy over whether the SATs are really accurate in terms of success, colleges that choose not to accept the SAT de-emphasize the validity of standardized tests by focusing on other strengths of applicants such as community services, class ran, and extracurricular activities. More than 360 schools apart from the U.C schools have opted to be "test-optional." These schools include the University of Chicago, University of Rochester and Brandeis University.
Monika Petrosyan (an English major at UCLA) and Farah Ali (a political science major at UC Berkeley) are two Clark alumnae (Class of 2016) who recently graduated from their respective universities. Petrosyan and Ali, both of whom took the SAT when they were in high school, agree with the recent trend in de-emphasizing the importance of the SAT and standardized tests in general.
"I think the SAT just tests your test taking ability skills under unnecessary pressure, and I don't see any way that it helps each individual on their individual path in college," Petrosyan said. "I don't see how testing someone's basic math skills with complicated questions can help someone with their individual career path."
Both Ali and Petrosyan said the SATs did little to aid their college experience and agree with the decision of many colleges to get rid of the standardized test altogether. "I don't think the SAT did anything to help me in college so I think it's good they're getting rid of it because it puts a lot of unneeded stress on students and standardized testing isn't entirely accurate," Ali said. "It's just another component to be a competitive edge for students and students who get really high scores don't always get into the college of their choice."
Students are not the only ones who have had doubts. Test critics, as well, have questioned the merit of SAT and ACT scores. There have been many allegations throughout the years following famous Hollywood stars and wealthy families rigging the exams, and at times even hiring imposters to take the test for them. There has also been a pattern of teenagers from less fortunate backgrounds doing worse than those who can afford to benefit from tutors and extra help. Problems such as these have made people deny the validity of standardized tests and led administrations to take a stand against them.
Determining "student success" has long been a vague term, but in recent years colleges have been inclined to look more into a student's grit rather than their test taking abilities. Now that the ACT and SAT tests are optional for many schools, college administration officers may look for students who show more growth and confidence in their high school years. Having realistic goals and significant improvement in grades and extracurricular activities are strengths and may be more appealing to college admission officers than a high SAT score.
"I think this is a great time to start making changes to standardized testing especially since it's been debated for so long," Nguyen said. "It makes me feel better about my own future experience with my college application knowing I have options available to me."