Eighth graders promote in a different way than usual
Pandemic forces changes in eighth-grade graduation ceremonies
October 15, 2020
With the COVID-19 pandemic continuing much longer than expected, eighth graders could not have their typical promotion. Instead, the schools scattered across Glendale Unified School District held graduation ceremonies in different ways to make sure that the eighth graders still had their special celebration. 
Normally, the promoting students would all gather with their fellow classmates, their parents and the school staff. The principal would be up on the stage and students would each have their name called. One by one, they would trudge to get their awards and certificates — getting ready for a new part in their life. 
The eighth graders from this past year could not have this experience, though. Instead, they had something very unique. 
Freshman Karam Al Yousif from Woodrow Wilson Middle School explained that their awards were given in the library by a teacher at a certain section. The order was determined by the student's first letter of their last name. "I went to school with my blue gown to return my books, get my awards and get the yearbook," Al Yousif said. "There were a lot of teachers congratulating me and cheering for me while I was walking down the hallway."
Al Yousif said that he was sad that they weren't going to experience the usual promotion. His parents surprised him with a celebration at home after he went to school, though, which made him feel better about the situation.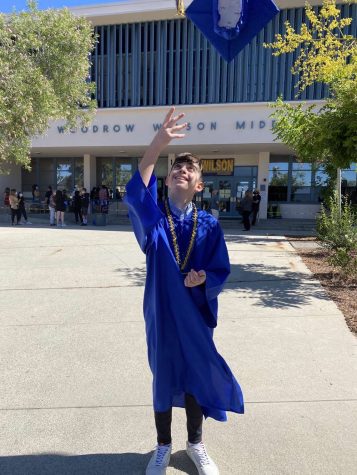 Theodore Roosevelt Middle School had a similar promotion as Wilson Middle School. Freshman Lelia Byerley said that there were a few teachers, the assistant principal and the counselors who were at their school when the students went to pick up their awards. "Other eighth graders and I filmed ourselves saying our speeches and uploaded it to Flipgrid," said Byerley regarding their promotion. 
Byerley said that it was her mom that was nervous about filming a speech, and not herself. Her mom told her that she had to dress up in a dress, find something that looked like a graduation hat, and had her hold onto a rose. Byerley explained that "the only reason I wasn't nervous was because no one was actually there, it was like talking to my computer." 
For Rosemont Middle School, the students had a drive-thru promotion. Crescenta Valley High School freshman Nicholas Battig said that the teachers were lined up on the sides. They were honking and congratulating all the students as they drove past them. "For promotion, my family drove behind the school to pick up my certificates," Battig said. "It didn't really feel any different from the previous last day of schools."
Students had unexpected experiences because of the pandemic and because of the stay-at-home order. Although many students wished for an in-person promotion, the world had other plans for them. With all the precautions they had to take, like social distancing, the students' supposed memorable festivity turned out to be quite the opposite. 
Eleanor J. Toll Middle School had all their students sit through different Zoom meetings. It was their way of saying thank you to the teachers and classmates. Freshman Sahaar Khan said that there wasn't really a true ceremony for their promotion. Around 2:20 p.m., the school held a live stream on YouTube. 
"The live stream opened with the choir kids singing 'Leave it all to Me' from iCarly," Khan said. "After that, they listed the names for all the eighth graders who were promoted with honors and then at the end of the live stream was footage of a Word document with the names of every single eighth grader who promoted."
 "It was boring overall, it didn't include any input from regular students," said Khan. She explained that it was all the student body council, the PTA and the staff talking. She was able to sit through it due to being on Zoom with her friends while watching the live stream.
If it had not been for the pandemic, students would have had the opportunity to also attend an eighth grade promotion dance. This dance would have occurred later in the evening following the ceremony. There would have been food, music and lots of memories made. The students would have shown up in their formal attires, ready to have a blast.   
Music would be blaring across the room and they would have been dancing the night away, preparing to say their last goodbyes to their fellow peers before going their separate ways. Having anticipated this dance for so long, it was a let down hearing that it had been canceled. "I felt a little sad at first, but then my parents surprised me with a cake and then I felt much better," Al Yousif said. "I even forgot we were supposed to have a dance after my parents surprised me."
"I was really looking forward to it because all of my close friends were going to Glendale High School, and that dance would be the last time we were all together," said Byerley. She also said that she was "supposed to perform with my modern band class at the end of the year concert with some friends, but that was canceled too."
Not only did the middle school students from the class of 2020 end their middle school experience on an unusual note, they also began their high school journey differently too. 
"It is interesting having your first day of high school be through a computer, but I get nauseated when I look at a computer screen for too long," Khan said. "It was a very welcoming three days when I met my new teachers, though."