The need for using reusable water bottles
"We have been taught the "Three R's" — Reduce. Reuse. Recycle — and I decided to focus on the first step, and that is to reduce plastic waste," said Clark graduate John Bandek. He witnessed the excessive use of plastic water bottles on Clark's campus and focused on this issue. "These plastic bottles were seen left behind on the field, parking lot and lunch areas," he said.
Bandek participated in the Lexus Eco Challenge, a national STEM competition, to address this issue. The previous work of Bandek and his Environmental GIS team led to the idea of a refillable water bottle station for Clark. "Some team members proposed bringing recycling bins to campus. But for me, recycling was the last resort." Bandek thought the only way to reduce plastic waste on Clark's campus was to bring a refillable water bottle station.
Along with the help of Dominique Evans-Bye, teacher of the Environmental GIS class, he was able to accomplish his goal by putting a refillable water bottle station on campus at the end of his senior year in 2017. This station is still at Clark today, located on the second floor near the main office, and is convenient for current students who now have access to refill their water bottles. "I can refill anytime I want, and it inspires me to drink more water," said junior Rose Bero.
More than forty billion plastic water bottles are purchased each year. Reusable water bottles are a cheaper and safer alternative to these disposable bottles. Each person who uses a reusable water bottle will save 217 bottles from going to landfill. "Ever since I got my Hydro Flask in August 2018, I do not waste as much plastic, and I contribute to helping the environment," Bero said.
Furthermore, using a reusable bottle reduces pollution in oceans. Many species of sea animals have been documented with plastic wrapped around their bodies. Sea animals cannot see the difference between plastic and food; therefore, the ingested debris blocks their digestive tract causing them to eventually starve.
Plastic bottles can also bring harm to people and the environment because of the chemicals and toxics, such as bisphenol A (BPA), that plastic contains. BPA is a harmful chemical that has been connected to hormonal issues and cancer.
Americans are the largest consumers of bottled water bottles. "It's easy to have plastic bottles, because when I'm done, I can just throw it away," said junior Cynthia Mehrabi, who said she uses about six water bottles each week. "I don't believe using plastic water bottles is a big problem. If one more person uses a reusable bottle, it won't make a difference and it's much more convenient to have a disposable bottle to carry around," Mehrabi said.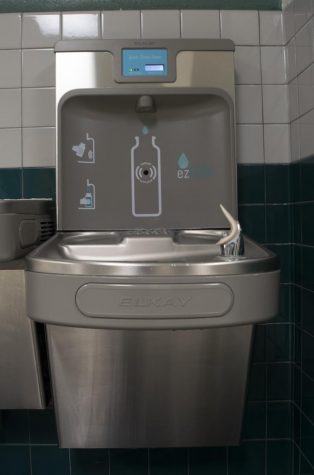 More than 11 billion dollars is spent on packages of plastic bottles each year. Americans on average spend $5 a week on bottled water bottles, meaning that one could save more than $100 per year by switching to a reusable water bottle. Some people dispose of the bottle directly after they have finished; however, plastic is a material that was designed to last longer than the average person uses it. But once plastic breakdowns, it releases chemicals into the environment.
As an alternative to one-time-use plastic bottles, many companies including Hydro Flask, Contigo and Nalgene sell reusable water bottles. For example, a 32-oz wide mouth at Hydro Flask costs $39.95, while a 32-oz wide mouth at Nalgene costs $11.54. Hydro Flask have more colors and sizes that increase the price of their water bottles.
According to Fact.MR, reusable water bottle company sales exceeded $8 million in 2018. The study also shows that the water bottle market will continue to increase an annual growth of 3.5% in value by 2028.
"[A reusable water bottles is] beneficial because you can refill it and have it by your side at all times," said Bandek, who is now studying public administration at Glendale Community College. "Unfortunately, as a society, we have forgotten about the first two R's — Reduce and Reuse."
"Using a reusable water bottle will not only encourage you to drink more, but it is a healthier choice for the environment," Bero said.