Once a Scout, Always a Scout
Scouting empowers youth in today's communities
Hang on for a minute...we're trying to find some more stories you might like.
"Be Prepared." A statement as simple as it is complex, serving for years as a greeting among the millions of Scouts gathering together every day around the world to change society and prepare for the future. With around 30 million Scouts on the globe, Scouting's significance continues to promote individuals as leaders and role models in communities worldwide.
Originating in the United Kingdom in 1907, Lord Robert Baden-Powell, a lieutenant general in the British Army, sought an improvement in British military-enlisted scouts and spread his idea of an organization where boys could be taught outdoor skills and good citizenship through his book, Scouting For Boys. Nearly 111 years after Baden-Powell and his sister Agnes Baden-Powell introduced Boy Scouts and Girl Guides in the United Kingdom, Scouting organizations are present in 216 countries and function today as the largest voluntary youth movement in the world in supporting young people in their physical and mental development through roles in society and the outdoors.
One of the most familiar organizations, the Boy Scouts of America, was founded in 1910 by W.D. Boyce and follows the basic premises of Baden Powell's Boy Scout Association in creating an atmosphere of eligible, trustworthy, and respected individuals through activities outside. The local Verdugo Hills Council of the Boy Scouts of America encompases Glendale, Burbank, North Hollywood, Sun Valley, Sunland, Tujunga, La Crescenta, Montrose, La Canada Flintridge and Eagle Rock. With around 1322 youths enrolled in the 47 units administered by the council, activities and programs range from every interest and age. "We are one of the smallest councils in our area," said Pete Simpson, Director of marketing and social media for the Council (and a Clark Magnet alumnus). We have six people who work here but lots of volunteers which allows the Scouts to build close relationships."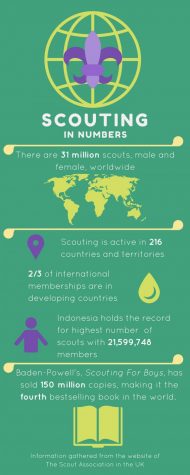 Usually meeting in church basements and auditoriums, Scouts are divided by age into their corresponding troops. Cub Scouts, the youngest group of children ages 5-10, are led by an adult leader and meet once or twice a month in their "den" to complete activities. "A typical meet-up would be working on what we call an adventure, which is a set of requirements to complete that usually involve learning a skill, like tying some knots or balancing as you walk across a narrow beam," Simpson said. Apart from learning essential skills, Cub Scouts take trips to the community like visiting a farmers' market or fire station, and they hold specific Cub-Scout campouts throughout the year.
However, for activities like hiking, camping and planning adventure activities, older youth ages 11-17 can join a Boy Scout troop which meets once a week. "I really got interested in Scouting because of their uniform and merit badges which there are so many of, almost anything you can think of," said sophomore Parker Lee, a member of Troop 391. "It really is an organization that expands one's horizons."
Aside from backpacking trips and outdoor entertainment, Scouts help out their community and those around them by participating in the Eagle Scout service project where a Scout demonstrates their leadership by presenting a project for the benefit of the local neighborhood. "My friends supported me, and I helped them back too, especially when they worked on their Eagle projects, which is almost like a giant humanitarian service," Lee said.
The collaborative environment among patrols allows Scouts to exercise teamwork while also developing innovative techniques and building friendships. "As a Scoutmaster, I feel that sometimes I learn more than the Boy Scouts," said Adrian Hairapetian, Scoutmaster of Troop 127 (and also a Clark alumnus). "It's really interesting working with Scouts because they all have different personalities and backgrounds, and I feel that it is part of my responsibility to guide and motivate each Scout toward his goal."Victoria Bochniak

For high adventure activities, there is also a seperate program for ages 14-20 called Venturing, as well as a career prep program named Exploring, where explorers receive training with organizations in specified areas about once a month at exploring posts. "Recently, we opened up an engineering Explorer post with a local engineering firm in Glendale, and since Clark is a school focused on STEAM, we are recruiting Clark students to join the program," said Amy Taylor, Foothill District Executive of the BSA.
Regardless of the program, one important aspect of every Scout's life is the Scout Oath and Law, a set of rules that preserve the movement's principles and serve as a guide in every Scout's journey. "We want youths to instill the values of the Scouting law which are the primary guiding principles for the scouting programs," Simpson said. "The idea that you should help other people at all times, and that you should be physically strong and morally straight are lifetime values that help prepare young people."
Along with regular camping trips also come once in a lifetime experiences, like the National Scout Jamboree which was held last summer at Summit Bechtel Scout Reserve in West Virginia, where Scouts from all across the nation joined together for nine days of camping, hiking and singing. "Every four years there is a National Jamboree at the Summit, and then every four years, offset by two years, is a World Jamboree, where Scouts from all over the world get together," Simpson said. "Next year, in 2019, it will be hosted by the United States, Mexico and Canada, who teamed up to put it all together, so it will definitely be something to look forward to."
The organization is also planning on adopting new changes into the program to welcome every Scout, regardless of gender. As of Feb. 2019, Scouts BSA will be the new name for the Boy Scout program to incorporate older Scouts as well as girls in the name. While to this point only venturing was co-ed, the "Scout Me In" campaign will include girls in the former Boy Scout program.
Besides the Boy Scout program, the Verdugo Hills Council caters to the Homenetmen troops as well, due to the vast Armenian influence in Glendale. Homenetmen, an international Armenian organization, focuses on connecting Armenian scouts and youth from all over the world through sports activities and cultural programs. "Oftentimes, we are able to incorporate Armenian culture and history while also teaching scouting skills," said junior Rafi Rajoyan, a member of Homenetmen Troop 306.
"As Armenian Scouts, we also begin and end ceremonies with national Armenian songs, teach about the Armenian Genocide and commemorate historical days throughout the year that other Scouts may not."
Apart from the Boy Scout Organization, the Girl Scouts of the USA have held a prominent role in American scouting history as well, being founded by Juliette Gordon Low only two years after the BSA. Contrary to popular belief, there is more to Girl Scouts than just selling cookies; the program focuses on leadership skills, promoting self-confidence and giving back to the community. "One of the major things we do is volunteer work; for example, my troop has done the 'Feed-Your-Neighbor' food drive for several years now," said junior Emily Woods, Ambassador Girl Scout of Troop 9581. "We also volunteered at the Fit and Fun Fair which is to teach kids about basic first aid like what to do if they have a sunburn or how to identify poison ivy."
One of the most prestigious projects a Girl Scout can do with her troop is earn the Gold Award, the highest achievement within the Girl Scouts of USA, which is acquired by gaining over 100 hours of community service and installing a project in the community that will keep on giving. "You need to build something that will be permanent and it has to impact the community even after you leave," Woods said. Although the award demands many hours and great commitment and only 5.4 percent of eligible Girl Scouts receive the honor, many take up the challenge as a way to distinguish themselves among others and grow as leaders and inventors.
Scouting has taken root in hundreds of places around the world, and many American Scouts choose to preserve their heritage through Scouting. The Polish Scouting and Guiding Association, which functions outside of Poland as well, has troops scattered among nations and all over the United States aiming to sustain Polish history in youth and scouting's importance in it. "A lot of what we do has to do with preserving tradition and learning about the key role Scouts has played in maintaining our history, faith and culture at times during World War II and the Warsaw Uprising," said Crescenta Valley Freshman Victoria Borkowski. "When we have camping trips with other Polish Scouts in California, we speak, sing and learn in Polish and uphold traditions during ceremonies and campfires to honor our country and those who fought for it."
More than a century after its beginning, Scouting has been able to provide millions of Scouts unforgettable experiences, fundamental skills and lifelong friends in a unique atmosphere that includes all types of young people. "I think Scouting teaches skills and ideas that are not taught anywhere else, we talk about the Scouting law, preparing youth to make ethical and moral choices, and also outdoor activities and career prep choices," Simpson said. "You can get some of them in other places, but altogether as a package I don't think that exists anywhere else but here."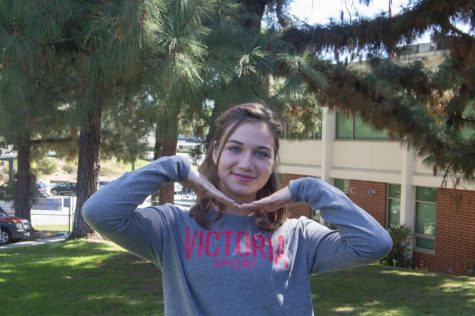 Victoria Bochniak, Website Editor
Hobbies: Reading mystery novels and traveling
Favorite shows: Find me the time to watch shows and I'll tell you
Places you want to travel to: Dubrovnik,...