The Time is Up
Schools take sexual assault more seriously
"The Times Up and #MeToo Movements are inspiring because it finally gives women the chance to feel comfortable enough to speak out," said junior Nelly Mazmanyan. Mazmanyan and many other women feel empowered because the mistreatment of women is finally being recognized. The Times Up and Me Too Movements surfaced in late 2017 after women in Hollywood came forward about being sexually assaulted by men in power. Sexual assault has increased tremendously over the years and was not really spoken about until these movements surfaced.
Even though sexual assault towards women is being recognized, sexual harassment towards minors is often unnoticed, as shown in a study published in 2009. Conducted by the CDC, the study revealed that girls between the ages of 14 and 17 have been victims of sexual assault or attempted sexual assault in 2009, according to the U.S. Department Justice.
At Clark, there are posters posted all around the school saying to report any unwanted behavior towards anybody, whether towards an adult or student. Eric Kursinski, AP United States History teacher, helps enforce this idea of feeling comfortable in his classroom. "I keep safe space stickers which isn't intended for a specific group, but includes coming out about sexual assault," Kursinski said. "I make sure to teach feminist ideology and to teach about various women's rights movements throughout history. I'd like to think that 70-75 percent of students do feel safe."
Indeed, many Clark students say that they do feel safe. "As a student, I personally do feel safe from any harassment or sexual assault here at Clark," Mazmanyan said. "There are, however, plenty of students who do not necessarily feel the same way."
Based on a survey of 73 Clark students conducted by the Clark Chronicle in April, 55 percent of the students surveyed said that they don't feel safe. "I was shocked to hear that students don't feel safe at Clark," said retired Clark English teacher Carol Pettegrew. "Maybe it's the idea of having the doors locked from the outside. Maybe it is because there are still people who 'bully' others."
"There have been numerous occasions in which the person called into question gets away with a simple talk with the administration. There needs to be consequences," Mazmanyan said. Mazmanyan and many other students feel as if stricter consequences should be enforced. "I have heard about so many people getting away with certain things that they shouldn't be doing and that's not right," Mazmanyan said.
"In general, I feel like students don't have a voice," said junior Christineh Antinian. "Society has labeled teenagers as a group of know-it-alls. That is far from the truth."
Part of the reason why students do not tell someone that they have been sexually assaulted is because they feel like no one will support them. "I feel horrible for those who had to keep their story hidden for so many years. But, I understand why they didn't come out sooner. It's because they don't want to have to go through the judgments and endure all the questions that come after," Antinian said.
Actresses wore black to the Golden Globes back in January to show their support for those who were sexually assaulted. The student walk-out held March 14 was a powerful statement in which students protested gun violence. "I would like to see different student-run activities not just in the United States but all around the world. Topics like sexual assault should be one of the things we [students] should fight for," Antinian said.
Students who attend schools in GUSD receive little education regarding the signs of sexual assault. "There was one assembly in middle school that I kind of remember," said sophomore Lyanna Babakhanian, who attended Toll Middle School. "Nobody took it seriously and was sadly taken as a joke." This year, an attorney hired by the GUSD led an assembly regarding safe environment. "The assembly discussed important topics but nobody took it seriously. It was just really ineffective," said junior Theodore Supangan
The month of April is Sexual Assault Awareness Month (SAAM). The National Sexual Violence Resource Center (NSVRC) is a center that helps raise awareness through donations, fundraisers and meetings, especially throughout the month of April.Their website states that they want to keep the #MeToo movement alive, asking everyone to bring "lasting change." They sell merchandise, ranging from bottles to shirts.
The shirts embrace the power of speaking up, saying "Your voice has power" in the front and "Ask for consent, respect boundaries, Believe survivors" in the back and sells for $22. All of the proceeds go to finding ways to end sexual violence. Exceeding their goal of 50 shirts sold, the organization raised $1,900.
However, there are more effective ways to help end sexual assault besides raising money. "Emphasizing the importance of empathy to children in elementary can help prevent sexual assault for future generations," said senior Luca Scharrer.
If you know someone or you yourself are a victim, Call the National Center for Victims of Crime (1-800-FYI-CALL).
About the Contributor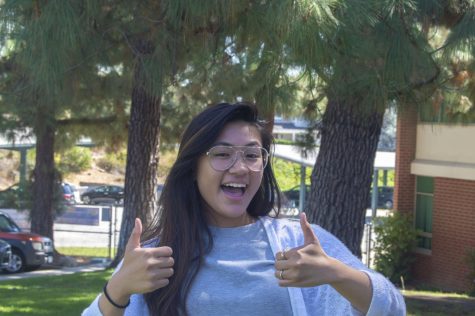 Isabela Lacsina, Managing Yearbook Editor
Hobbies: Playing guitar and traveling

Favorite shows: Queer Eye, Jane the Virgin, Riverdale

Places you want to travel to: Greece

Items on your...