Fantasy basketball offers new avenues in enjoying the game
As if five-hour discussions on who is the greatest basketball player of all time were not enough, fantasy basketball has taken over as the number one conversation starter in sports. According to the Fantasy Sports Trade Association, fantasy sports in the U.S. since 2010 has seen an 85.3 percent growth in users. Whether on ESPN, Yahoo!, or other fantasy sports platforms, users cannot deny their addiction to fantasy basketball.
Three-year player Rocco Pacana — who has played competitive basketball for more than 15 years — described his addiction to fantasy basketball as "incurable." "I'm always itching to play," Pacana said. "Whether during my lunch break, at home, or even sometimes in traffic, I always check my phone to see how my players are doing."
"It's honestly dangerous," Pacana joked.
Most fantasy basketball apps rely on a constant format. The fantasy draft, where players select real-life players to compete for their fantasy teams, usually takes place in early October or late September, coinciding with the start of the real NBA season. Most leagues transpire over the course of 23 weeks. The 20-week regular season determines seeding for playoffs, in which the top teams go head-to-head over the last three weeks.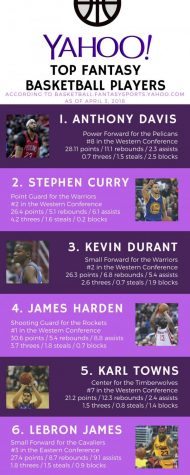 Fantasy basketball relies on real-life performance from NBA players. In standard, nine-category leagues, which Yahoo! Fantasy uses, statistic totals are added up then compared on a head-to-head basis. To succeed in a nine-category game mode, one must win a majority out of nine categories to win each week.
Other game modes, like ESPN's point-based system, rely on a more intricate system where each player's stats are plugged into a formula to calculate how many points that player earned in each game. NBA players can get 40 points or even negative points, depending on how great or poor their performance was.
"I prefer playing fantasy on ESPN because I don't have to rely as much on putting together a cohesive team," said junior Rafi Rajoyan. "I can just draft the best players and their points will add up. If I played Yahoo!, I would have to try to make sure all the players' contributions flow well together."
One of the reasons the NBA is taking over as a premier sports league is its contribution to player identifiability. Players are more easily recognized in the NBA than in other big sports leagues such as the National Football or National Hockey League because of the lesser number of players on the floor and facial visibility. In other sports, there are too many factors that contribute to players not being recognized, such as player quantity or masks.
Fantasy basketball is contributing even more to player identifiability. Even NBA players who average 15 out of 48 possible minutes played are easily recognizable. Though the casual NBA viewer wouldn't usually recognize players outside Lebron James, Steph Curry, or other NBA superstars, fantasy basketball helps the invested fans recognize the less popular players.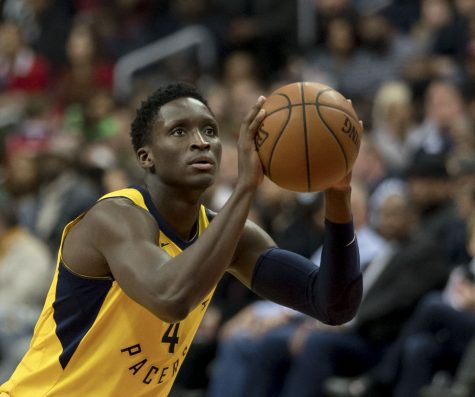 One of the main appeals in fantasy basketball is its ability to make any casual fan feel like a manager of a professional sports organization. When people have NBA players who compete for their fantasy teams, it turns a casual fan into an invested fan of basketball.
"I started playing fantasy sports — basketball, football and baseball — a good 10 years ago," said Clark teacher Narbeh Der-Gevorkian. "If I had another job, aside from teaching, I would be a general manager of a sporting organization. Fantasy makes me feel like one to some extent — I like the competition, research, and statistics that go along with it."
"The pure fact that I have control of what I can decide to do, in terms of adding or trading players, makes me feel like a general manager," Der-Gevorkian said. "I just get to structure a team that, at every position, I feel would be the winning combination. That's the beauty of fantasy sports — I have complete control over my entire team. "
Fantasy basketball also makes watching a real NBA game much more engaging and competitive. When there is money involved, fantasy players become more interested in the actual sport, and even become fans outside of playing fantasy.
"[Fantasy] helps me root for a team or a player more so if I have more at stake with my fantasy team," Der-Gevorkian said.
Now, in the 20th season of Yahoo!'s fantasy basketball season, competition is more rampant than ever. In a standard league, only eight out of 10 possible teams can advance into the three-week playoff stage. With standard seeding, teams are trying to hustle into a top seed to acquire an easier matchup in the quarterfinals; first plays eighth, second plays seventh, third plays sixth and fourth plays fifth.
Another factor that goes into fantasy basketball's uptick in success is the money involved. Most leagues have a pool of money involved, ranging from $100 season-long leagues to $250,000 daily matchups.
The competitiveness of fantasy basketball is largely driven from the money involved, but mostly from the people who play it. Most leagues are composed of people who know each other in real life, and fantasy basketball just adds another way for them to truly enjoy the game of basketball.
"I'm trying to win my league at Clark to show that I have a high basketball IQ and that I can pick the best players who aren't superstars," Rajoyan said. "It doesn't hurt that my friends are in it — I'll rub it in their faces for the rest of the year if I win. Fantasy might be too time-consuming, but I don't really mind spending a lot of time playing because the competitiveness makes it worth it."