Learning about paraeducators
"Silent" teachers provide support for both teachers and students
In a classroom environment most students only care about their teacher and their student teacher assistants. However, students do not notice another important element in a classroom setting: paraeducators. A paraeducator acts as a teacher's aide or class assistant under the teacher's guidance. Paraeducators help in many schools in Glendale and nationwide, but the actual numbers of how many paraeducators are unknown.
Freshmen English and Creative Writing teacher Maral Guarino said that paraeducators allow teachers to give more one-on-one time with students who could use the additional help.
"I think that with growing class sizes it enable teachers to help students more individually because she can use the adult under her guidance so students can be better services," Guarino said.
Paraeducator Anie Kojayan helps in Armine Vardanyan's U.S. History class and in Narine Tatevosian's freshmen and sophomore English Language Development class. Clark's other paraeducator, Narine Gabuchian, helps in Bolojoko Adesina's classes all day. Gabuchian said that the goal of a paraeducator is to help students find the talent that they have in order to help them find success. According to Kojayan, a paraeducator has to be a person who is willing to help students succeed in school, while assisting teachers to ensure a safe learning environment for the students.
"For me it was learning to work with students in the English Language Development (ELD), being able to teach and read with them," Kojayan said. Gabuchian said that she learned how to be patient with the students and tried to learn how to understand every student because everyone is different.
The assistance of a paraeducator in class is helpful for teachers because the teacher can spend more time working one on one with other students, according to Guarino.. "If the educator is well trained they are like the teacher's right hand," Guarino said. "If a student needs a specific help in writing the paraeducator can help them while I help another group."
Working with the students as the teacher's right hand provides them (paraeducators) with an opportunity to have prior training to be a teacher themselves. Kojayan said that her experience working as a paraeducator has only made her look forward more than ever to being a teacher. Kojayan is getting her bachelor's at Cal Poly Pomona and is going to transfer to CSUN for their credential program as an English major. She said that she enjoys working with the students at Clark.
"To become a paraeducator, a person must take part in an interview at the school site and take a math and reading test at the district office," Guarino said. Prior to being a paraeducator, Kojayan had been working for a Glendale Unified afterschool program at Verdugo Woodlands Elementary. However, she was constantly working after school with the the students and she was anxious to learn something from her work. Kojayan's phone call to come work at Clark as a paraeducator was random, she said, as she hadn't initially applied to work here. Guarino and the three Clark administrators interviewed Kojayan. After her interview, on the same day, she was called and told she got the job at Clark Magnet.
For teachers, the benefit of a paraeducator is that they are able to spend more time with students who need help, while the paraeducator can help a different set of students under the teacher's guidance. According to Vardanyan, particular lessons "Ms. K" (as the students refer to her) has been helpful with are reading short stories with the students, discussing literary devices and analyzing diction and syntax with the ELD students. "I've gained a great deal from teachers asking questions when reading and I've gotten a good experience working with teachers," Kojayan said. "Mrs. Gabuchian has been helpful in science subjects mainly, due to her college degree background in sciences. She has helped students in chemistry, physics and biology," Adesina said.
Gabuchian said that she would continue to work at Clark as long the school would want her services and as long as her health would allow her to do her work. "The paraeducator brings a new perspective into the classroom environment," said sophomore Isabela Lacsina. "[Ms. Kojayan] is always there when Ms. Vardanyan isn't and makes work more efficient."
About the Writer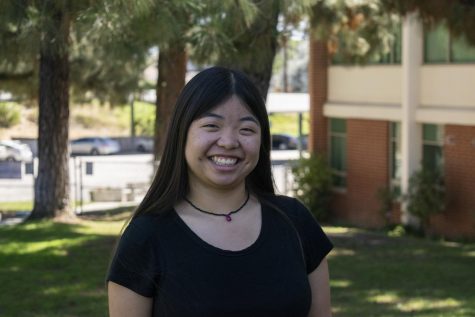 Shaye Holladay McCarthy, Magazine Editor
Hobbies: Archery, dance, writing, cooking, music

Favorite shows: Game of Thrones, Criminal Minds, World of Dance, Legion, Runaways, Daredevil, Runnning...