Hunt for cosmetics that are worth their cost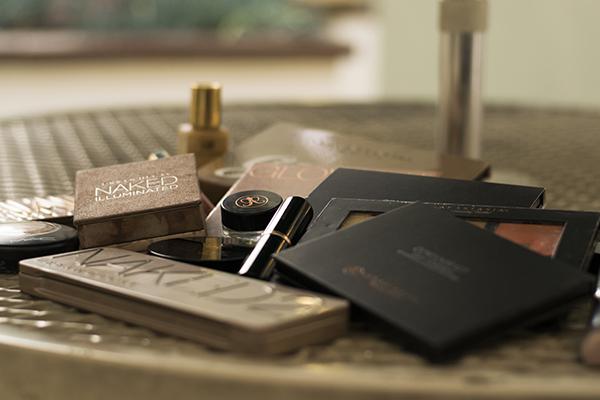 "I always end up spending a bunch of money when I walk into Sephora," says junior Anna Karapetyan. "I can't help it. I love what they sell." Everyone who goes makeup shopping knows it's hard to resist falling into the temptation of splurging on makeup. Whether in Sephora or CVS, spending too much money on makeup is inevitable. According to Quartz, the average woman spends nearly $15,000 on makeup in her lifetime. With that much money being spent, it's hard to tell what products are really worth it and which are not.
Many variables are taken into consideration when creating and pricing a makeup product: ingredients, manufacturers, packaging, service and brand reputation. The price of a product obviously relies on what it is made up of. Aside from the actual pigment in a product that gives it its color, there are other base ingredients: fillers, fragrances, moisturizers, minerals, binders, sunscreens, preservatives and many other compounds.
High-end makeup is usually made up of better quality ingredients that makes the application and wear of the product superior to those of drugstore brands. Higher-ended brands tend to have more pigment rather than fillers, whereas drugstore brands tend to have the opposite. The use of more pigment also means that luxury brands have more extensive lines of shades. However, according to Refinery29, only 15 percent of the price paid goes towards the ingredients.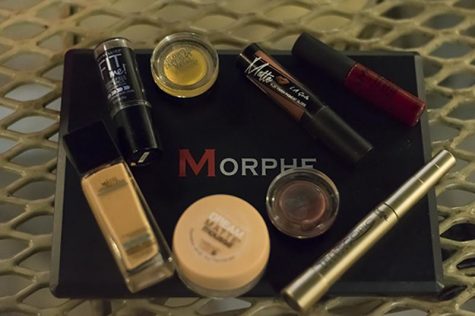 Most of what consumers are paying, or not paying, goes towards the packaging; the more you pay, the more expensive the packaging is. As stated by Quartz, people are mainly paying for the packaging.
The company that manufactures the product can change the price depending on their production costs. According to Quartz, packaging has become the focus in the industry, such that "there are actually awards given out for it." The more attractive the packaging, the more consumers gravitate towards it. Some brands like Two Faced, Tarte and Jeffree Star Cosmetics use brighter colors that catch the eye; other brands like Anastasia Beverly Hills, Christian Louboutin and Urban Decay make classier packaging that have more clean cut, minimalistic aesthetics.
"Anastasia Beverly Hills is one of my favorite brands," said junior Emily Hakopyan. "They have amazing products and their packaging is really pretty. The Modern Renaissance pallet is one of my favorites; it has a cute velvet packaging."
The service that comes with going to stores like Sephora or Mac contribute to the price also. Having a chance to try on products with professionals who help customers pick and apply the best products contribute to the price also. However, when shopping for cosmetics at your local Target or CVS, there are no samplers, so choosing a color can be a guessing game.
Aside from the ingredients, manufacturer, packaging and services, the brand reputation also has a great effect, as it does with most non-beauty products. "Sometimes clients ask me what products I am going to use on them just to know if it's brand name," said freelance cosmetologist Armine Nikolyan. "They even request high-end products because they think it's better than affordable brands."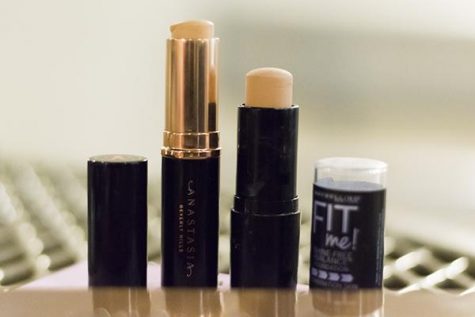 Just having a product from a brand like Chanel or Giorgio Armani in one's vanity gives it value. "I prefer high-end brands. I don't have any drugstore products. I just like the overall quality of high-end makeup," said junior Lousine Aslanyan. Brands with high reputations are the ones that get away with extremely over-priced products that people buy just to say they have products like the latest Natasha Denona pallet which is priced at $239.
Within the last two years, though, drugstore brands have been stepping up their game, with brands like NYX and Elf even opening their own stores in malls. Chemist Randy Schueller told Quartz, "Price does not really correlate to quality when it comes to cosmetic products." Brands like Maybelline and L.A. Girl have released products that have become cult favorites for having the same results for half the price.
With all the progress in drugstore brands, whether it be ingredients or service, it is becoming harder to distinguish which high-end products are worth it when one can always find its cheaper counterpart, or as they say in the beauty community, its "dupe," at the drugstores.
"I have an even mixture of high-end and drugstore makeup," said sophomore Ani Vartanyan, "It's really hit or miss for me. Some things I like from drugstores, some from department stores."