GUSD students' report cards do not indicate plus or minus signs
Many students seem content with the District's decision
Students know the pain and the feeling of disappointment when absolutely working hard to get that "A", but are stuck at a 88.6% or "B+". After trying to come to terms with the disappointment, realizing that there is nothing left to be done, that dreaded "B+" will still show up as a "B."
Junior Pollyanna Esaghoolian said that report cards are better without the plus or minus signs. "I think it's better," she said. "In the end, an 'A-' will be an 'A.'" Although in some situations, Esaghoolian said that the plus or minus signs would not help one's grade. "But if you got a 'B+', then it would not be better for it to change to a 'B'," said Esaghoolian.
Associate Principal Lena Kortoshian is well aware of the fact that this policy on transcripts was created and enforced by GUSD. "This was created by the District, it's not the school," Kortoshian said. "When somebody gets an 'A', it's worth four points. If somebody got an 'A+', we can't give them 4.1 points."
"It's a District decision," said head counselor Karine Turdjian. "For progress reports, plus or minus signs show up for record of academic progress. For colleges, when we calculate it, it's four points for an 'A'. An 'A+' is excellent, but we don't issue fractional points."
Turdjian also said that for each teacher there can be a different grading system regarding plus or minus signs. "Some teachers say that a 90 percent in a class can be considered an 'A,+'" Turdjian said. "In my opinion, final grades shouldn't have plus or minus signs in them."
According to College Career Prep and Health teacher Randall Tiffany, in colleges and universities, plus or minus signs will make an appearance on student transcripts.
"If you have a 4.0 in college or in a university, which is the highest GPA you can have in college, they call you 'magna cum laude' which is Greek," Tiffany said.
Junior Ninette Simonian said that plus or minus signs are not important when discussing grades. "To begin with, I already don't agree with the grading system of schools," Simonian said. "I could get an 'A' in one course, but if you have another teacher for the same course you could get a 'C.' Adding the plus or minus sign is not necessary and wouldn't change anything really."
Simonian also said that keeping the plus or minus signs can create greater conflict among students and labeling each other based on grades. "It would just add another way students can categorize themselves," Simonian said. "'I'm not an A student, I'm an 'A+' student'. A student should be labeled as just a student because the grades don't mean much anymore, especially with the plus or minus."
Junior Melanie Kasparian said that she does not think the plus or minus signs matter, especially when it comes down to the student rankings. "Students only care about receiving the letter grade that they desire," Kasparian said. "The plus or minus signs just add another burden to the overachieving students' life; tearing themselves apart so that they can earn the best grade they possibly can. Trust me, this is not necessary."
Dr. Deb Rinder, Executive Director for Secondary Services, said that the plus or minus signs do not show up on a student's semester report card due to the administrative regulation.
"The policy on plus or minus signs, whether they appear on the transcript, was a local district decision," Rinder said. "This administrative regulation was first approved in 1916 and it's been our policy for a number of years. It's administrative regulation 5121.12 that states plus and minus signs will not show up on the semester report cards."
The upgrade to a new grading system was to promote the use of the parent portal and show how certain assignments are graded, for instance, in a teacher's gradebook, Rinder said. "We changed from the program 'Zangle' to 'Q'," Rinder said. "This is for parents to see their child's grades from the new parent portal, so that's why we promote the use of the parent portal."
"I have never gotten any complaints of the plus or minus signs on report cards," Rinder said. "We changed it because of the class rankings. If you said to the college that you came from a high school that does not show class rankings, the colleges will look at you individually. Colleges would look to see if you were in the top ten percent [of your class]."
This way, colleges will not judge a student by the student's class ranking, and therefore a student will not be identified by just a number.
"Other districts have plus or minus signs on their report cards, but I want to make it easier for teachers and students," Rinder said.
About the Contributor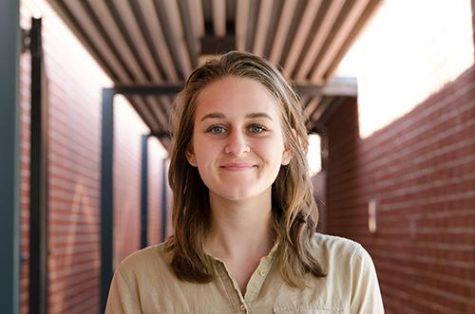 Tenny Vasghanian, Yearbook Design Editor
Hobbies/Interests: I love science and math. I play the piano and do a lot of art (including sculpting)
Favorite Movie: The Devil Wears Prada
Favorite...