Students react to the upcoming centennial of the Armenian Genocide
Area groups plan events leading up to the April 24 commemoration.
April 1, 2015
Every year, many Armenian students at Clark participate in events commemorating the Armenian genocide, and the continuous denial of the event. However, this year marking the centennial of when the massacres began, April 24, some students have become a lot more active in gaining attention.
Usually, every year there is a march in front of the Turkish Embassy on Wilshire Blvd. that gets media attention, but this year students have gone to extremes in order to let their voices and their cause be heard.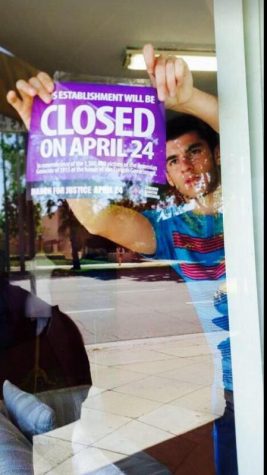 The Armenian Youth Federation (AYF) and the Unified Young Armenians (UYA) have combined efforts in order to organize this year's March. They are in charge of planning logistics of the march such as routing, permitting, coordination with the city police, and supplies like water bottles and posters.
Senior Raffi Jivalagian is part of the special committee in charge of organizing and delegating these tasks. "Thanks to the use of social media, we have been able to spread awareness in many creative ways like using hashtags and posting information in many places," Jivalagian said. "Also, having many as Armenians as well as non Armenians at the protests is important, so a lot of time has been spent in passing out flyers to local businesses and urging stores to close on April 24."
According to Jivalagian, many of the businesses in the Glendale area have kept the flyers that were handed to them by different members of the AYF and UYA and will be closing their businesses in order to raise awareness about the Armenian genocide.
The AYF has also organized a "100 Days of Action" event where 100 days before, and every day leading up to April 24, there is an event that helps commemorate those who lost their lives and raise media attention.
These types of events include lectures and passing out flyers to raise awareness. However, one of the most interesting things that the AYF organized was a "die in," where on Sunday, March 1 people wearing Armenian genocide T-shirts and posters depicting the injustice done to the Armenian people all stood in front of the Staples Center in Los Angeles while there was a basketball game inside, and when the game ended and people started to come out, they all fell to ground and pretended to die. Some of the city police got annoyed and tried to get the members of the die in out of the street, but they still got the attention of a lot of people.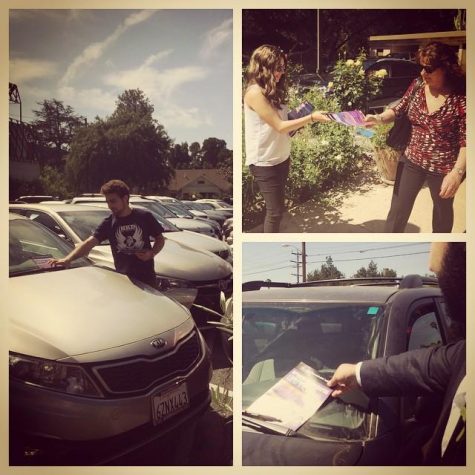 In addition to the efforts of the AYF and UYA, students working with the Armenian National Committee of America (ANCA) have been hard at work as well. They are planning an advocacy day, where on April 19 and 20, the organization will be taking about 300 people to Sacramento to advocate for the recognition of the Armenian genocide.
Senior Vana Asdourian, an intern with  the ANCA, is part of the task force that is organizing the event.
"We do this trip annually. Last year we were able to get a resolution that says all schools in California have to teach a unit about the Armenian genocide in history classes," Asdourian said. "Although California has already passed the Armenian genocide resolution as a state, we still go and try to raise as much awareness as possible."
"
We do this trip annually. Last year we were able to get a resolution that says all schools in California have to teach a unit about the Armenian genocide in history classes."
— Vana Asdourian
Students aren't just raising awareness in outside organizations, but in school too. Clark librarian Susan Newcomer has asked sophomore John Bandek to retrieve pieces of art and writing from students in school in order to create a display in honor of the genocide.
"I've talked to some of the students of the art class to donate pieces that they have created in honor of the genocide, as well as some writing from the creative writing class," Bandek said. "Since this year is the centennial of the Armenian genocide, it is important that we honor the ancestors of our students who were victims of this event."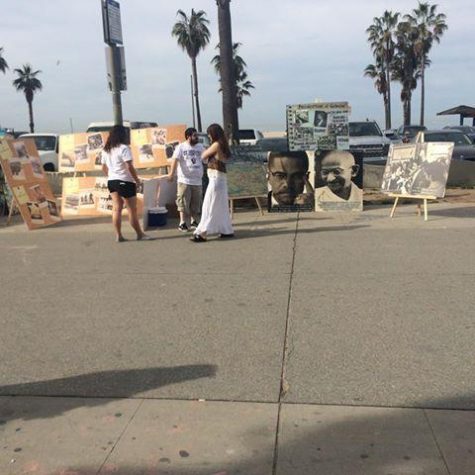 The entire school district will be closed on this day as well, so that those who wish to can go to the march and protest against the Turkish embassy. "We have estimated that about 65,000 to 100,000 people will be coming to the protest this year," Jivalagian said. "Considering the magnitude of this year's protest, it is sure to turn heads of people and countries all over the world. And once people notice this, they begin to ask questions about why thousands of Armenians are marching through the streets of Hollywood."
There has been so much time and energy focused on this issue that even the non-Armenian students in Clark are passionate about the situation. "I grew up in Glendale, and it is my community, and I care about the issues of the residents here," said Senior Annie Vo. "I don't understand how Turkey is able to deny such a matter. All the facts are there, they're just afraid to admit to the injustices they have committed."