Clark students take over Pacific Theaters
The Americana at Brand movie theater hires many Clark Magnet High School students.
October 12, 2014
When asking teenagers what they think is the worst stress builder, most answer "getting hired." Finding a job as a teenager can be quite difficult. Some adults think teens aren't built for the task or don't have enough background to be entrusted with a job. Some might see it as a challenge for a high school student to be working, and others think of it as more of a learning experience.
According to the National Journal, during the year 2000, 45 percent of teenagers in America were employed, but as of 2011 the rate declined to under 26 percent. Due to the drop in our nation's economy and higher than normal unemployment, some employers have hired older applicants who are more experienced and are in need of a new job.
Filling this void for work opportunities for some teens are theater chains. One of these theater local companies, Pacific Theaters, began 70 years ago and has eight theater locations across the West Coast, including one in Glendale.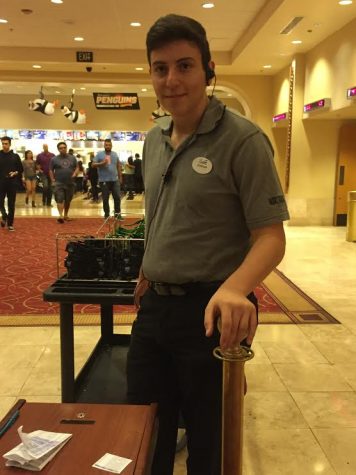 Pacific Theaters hires young employees, and many Clark students have taken advantage of that. In the past two years, more than ten Clark Magnet students have been hired at the Glendale Pacific 18 at the Americana at Brand. Being located at the heart of Glendale, Pacific 18 is a tourist attraction and known to be insanely busy on the weekends. According to the Pacific Theaters, over 5 million customers a year in California see movies in their theaters.
Not only is the working experience a great learning curve, but according to the company's website, Pacific Theaters also supplies its employees with free movies and reasonable holiday hours. Many Clark students who work at Pacific 18 say they enjoy the work culture there. "I think it's definitely a pro having co-workers from my school because it makes the entire experience more pleasant and there's a lot more to look forward to before going to work," says Hakop Ter-Panosyan, a junior at Clark and Pacific Theater employee and Argeen Ghazarian, 11th grader, stated "It's always something new.
Even after you think you've seen it all, you'll find new, weird objects in theatres. It's a really fun experience. The best people work there; they make it so fun to be there."  Working with schoolmates not only makes it more comfortable at work, Ter-Panosyan says, but it also gives employees something to look forward to at work.
Most companies take employee responsibility very seriously and make applicants go through challenging interviews to see if they have the right skills for the job. Petra Beglarian, an assistant manager at Pacific 18 and a former Clark student, says that Clark students usually stand out as applicants. "Clark students are very responsible, take their jobs seriously and strive to get the job done," Beglarian says.
"Clark students are very motivated and work very hard. This job is pretty demanding and they always manage to get the job done," says Arzievik Moradian, a Clark alumni and current assistant manager at Pacific Theaters. "We know Clark does a good job preparing students for the real world and meeting job requirements." Employees are in a constant flurry of pacing between tasks from cleaning the theater floors to running concessions.
"Being a former student, I can say that Clark teaches their students to multitask, be independent and meet the demands they are expected to," Beglarian says. "We tend to hire employees that we know can meet the standards required for this job."
Stress is known to pile up for teenagers who take on too many AP classes and a part-time job, but Pacific 18 gives students a memorable experience and schedule requests to make their weeks less challenging. "Clark students enjoy working here because they hire minors and have a calm working environment," Moradian says.
Many of the employees say that because movie theaters are an important part of the media world, they are a great experience for a young employee. "I wanted to work at Pacific Theaters because I like the ability of being involved with different types of films and being able to meet new people all the time," says Ter-Panosyan, a current cinematography student. Ter-Panosyan learns the basics of cinematography through the use of online instructional videos. Being exposed to the multimedia world can be a major bonus for students who were planning on taking on a career in media or production.
Learning the essentials of employment, students gain more knowledge about the real world and pick up life skills to prepare them for the future. "I like the quick pace and very friendly atmosphere because there's always something to do," Ter-Panosyan says. "If you ever do run out of work to do there's plenty of really fun people to interact with."
Completing tasks such as selling popcorn and movie tickets, young employees continue improving their communication skills by interacting with customers. As customers waited their turn to buy a ticket, the smell of popcorn arose from the concession stands. Having a job also requires responsibility: showing up on time and getting the work done correctly. Pacific Theaters sets high standards, these students say, and with some effort most manage to reach their target.
"An employee can be selling tickets for a minute and next thing you know they're serving food; work is always interesting at a movie theater because you never know what you might come across," Mkrtchyan says.