Garlic and Chives: the Vietnamese hot spot inspired by fusion and distinct flavor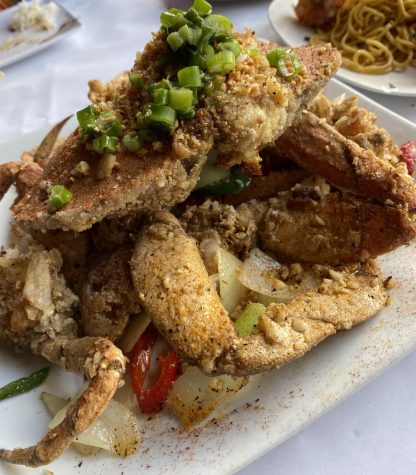 Located in Westminster's Mall of Fortune, Garlic and Chives serves flavorful Vietnamese cuisine with a twist of fusion.
Before driving to the location, my sister opened up the Yelp app to join Garlic and Chives' waitlist. She had found the restaurant by scrolling through Yelp's results for Asian food in the area.
Most of the parking spaces were already taken by others ready to eat, shop or both when we arrived at the mall's parking lot. Walking up to the restaurant's entrance, we saw a crowd of people waiting for their tables. While waiting for our party to be called, I was tempted by the baked goods behind the glass display windows of the restaurant's neighbor— 85°C Bakery Cafe.
After buying lots of snacks from the bakery, our party was finally called. Upon entering, the aroma of garlic and Vietnamese cuisine quickly filled the air. Our waitress was very friendly and greeted us with a kind smile. The seating was spacious and comfortable. They provided complimentary edamame which was super delicious. It's cooked in a garlic sauce that reminded me of the famous sauce from Boiling Crab.
The dishes were served pretty quickly with simple, but elegant presentations and good proportions to share with the table.
The Thai calamari salad was refreshing with unique flavors from the many exotic ingredients including mango, onion, papaya, green beans, mints, peanuts and fish sauce vinaigrette. At first I was weirded out by the ingredients, but the flavors all worked well together, creating a peanutty, fruity taste with savory flavor from the vinaigrette. It is a great type of different from my usual Caesar salad from Panera Bread.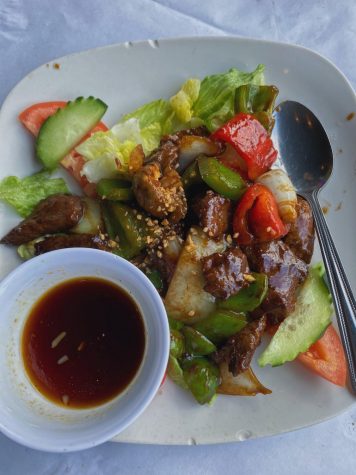 The sauteed sea snails had a loud sizzle as it was served on a hot dish. It looked and smelled great, but we noticed a seemingly alive tiny slug on one of the shells. We notified our waitress immediately, and the staff didn't fail to accommodate us by offering to make another dish. My sister chose blood clams, which she described as having "the taste of the ocean with a good amount of spice." The sea snail problem was disappointing, but the staff handled it well and the clams were cooked deliciously.
With a whopping price of $64, Kristin's Famous roasted garlic crab is a seasonal cracked Dungeness crab topped with chives and garlic chips and served with peppers and onions. Its price was surprising, but it's definitely worth it. The crab has lots of meat in its legs and claws despite being served with an empty body shell. The garlic flavor compliments the subtlety sweet crab meat.
Garlic and Chives' glass windows allow an abundant amount of light through during the daytime, while also having hanging lights and a dazzling chandelier. The restaurant's elegant decor and relatively small space creates a casual ambiance compared to its over-the-top food. Their menu's range allows for a limitless culinary experience with endless possibilities in flavor.
9892 Westminster Blvd #311
Garden Grove, CA 92844
Phone: (714) 591-5196
Hours: Monday, Tuesday, Thursday and Friday: 11 a.m. – 3 p.m., 5 p.m. – 10 p.m.
Saturday and Sunday: 10:30 a.m. – 10 p.m.