Sweet Chick serves up the best chicken and waffles in Los Angeles
Along Fairfax Avenue lies a sizable fried chicken restaurant called Sweet Chick. With an undoubtedly high ceiling inside, the restaurant feels very comfortable and homey. At the same time, it somehow feels luxurious with the large bar on the left hand side and the old-timey recording studio on the right side.
Right as I entered the restaurant, it seemed as a crowd unfamiliar to the restaurant's vibe had followed me in, as they all had flashy, expensive outfits on. Luckily, I was able to reserve enough seats for my family online.
Once seated, I decided to order steak and eggs and split meals my brother, who ordered the chicken and apple cinnamon waffles. Service was quick, and went by even faster with the booming hip-hop music playing. Each song was a throwback track, which didn't come as a surprise to me once I realized the restaurant was owned by none other than legendary New York rapper Nas.
When the food arrived, I was delighted by how well cooked the steak appeared to be. I ordered my steak medium rare — the only way to eat a steak — and it was perfectly pink with the right amount of char on the outside. The home fries served on the side were perfectly seasoned as well; not too salty with nicely crusted edges.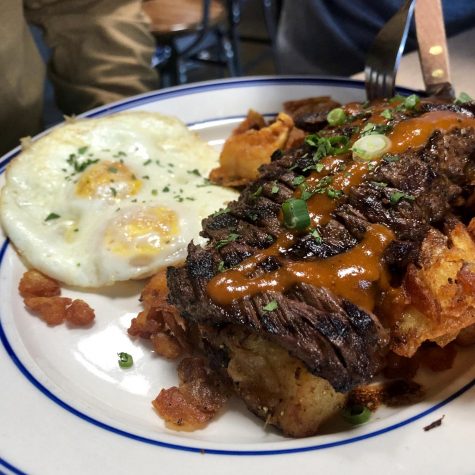 Moving onto the fried chicken — the highlight of my dining experience. The crispy skin is something unlike other fried chicken I'd tried before. It is extremely crispy, but also light, flaky and clean. I didn't feel too bad or greasy after eating it. The chicken itself is extremely juicy, and I honestly wouldn't have minded eating the chicken without the fried skin — that's just how well cooked it is.
The waffles served alongside the chicken are outstanding as well, and they are served with three types of butter on the side: berry butter, herb butter, and lemon butter. Though I would've preferred regular butter as well, I enjoyed their unique versions of butter.
Sweet Chick is a unique dining experience, and one that I wouldn't mind repeating over and over and over again. Though it initially seemed impossible to encapsulate and mirror the hypebeast, trendy vibe of Fairfax, Los Angeles, Sweet Chick did just that.
Address: 448 N Fairfax Ave, Los Angeles, CA 90036
Hours: Sunday – Thursday: 11 a.m. – midnight
Friday & Saturday: 11 a.m. – 2 a.m.
Phone: (323) 592-3423