Ample Hills Creamery: a cozy spot for ice cream
Opening in Oct. 2018, Ample Hills Creamery brings original flavors from New York to California. Out of 14 locations, the Los Feliz venue is the only Ample Hills scoop shop on the West Coast. With up to 22 flavors all-year round, the creamery offers a wide range of flavor to please the taste buds of any child or adult.
As my family drove up to the venue, I was intrigued by the lively amount of color. Outside, we saw customers eating their ice cream on the porch swing and children playing a game of Cornhole. Walking into the shop, I first noticed their fun and cute decorations. The creamery is very "insta worthy," with its many colorful paintings and backgrounds. The indoor seating is very spacious, making it very easy for customers to find a place to sit.
Choosing a flavor is always the most difficult part for me when it comes to visiting ice cream spots. Ample Hills' wide variety of flavors made this part much harder. Luckily, the workers were very kind and generous when it came to samples. They were happy to help us and answered any questions with a smile on their face.
They offer three sizes, which include kids for $4.35, small for $5.35 and large for $7.35. Unlike other creameries, you can choose two flavors for each size. Other than a cup, you can choose from a variety of cones: wafer, sugar, spiral, gluten-free and birthday cake. The wafer and sugar cones require no extra charge, while the birthday cake and gluten-free cones cost an additional $1.50. As the most pricey option, the birthday cake cone costs $1.75. Compared to Afters Ice Cream and Wanderlust Creamery, the prices of Ample Hills Creamery are not that high. The ice cream is indeed worth it.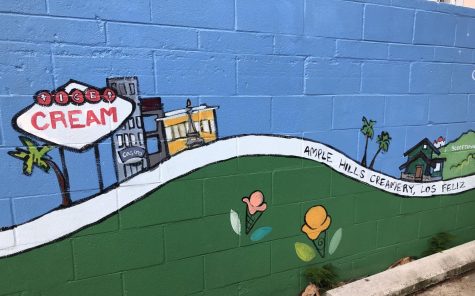 Other than the traditional ice cream on a cone, the creamery also makes a "flight" of ice cream, that consists of six mini scoops for the price of $10.50. Additionally, they make milkshakes for $8.95 and floats for $7.25.
During my first visit, I chose PB Wins the Cup and their bestseller, Ooey Gooey Butter Cake. These two flavors were delicious with the shop's sugar cone. PB Wins the Cup is a very simple, but scrumptious, flavor. As a big fan of peanut butter, I was excited when I saw this flavor. The combination of vanilla and peanut butter is a winner in my book. The Ooey Gooey Butter Cake was a new flavor for me. It wasn't like any flavor I've tasted before. It was sweet, and the bits of butter cake made it much more enjoyable.
Those who aren't fans of ice cream can always try the shop's brownies or butter cakes. Ample Hills Creamery is one of my favorite ice cream spots with its colorful atmosphere and mouth-watering flavors. It is definitely a place to visit in Los Feliz.
The creamery has unfortunately been closed down after 15 months.