The Crack Shack takes a good crack at becoming Pasadena's best fried chicken place
Hang on for a minute...we're trying to find some more stories you might like.
In an area renowned for hosting a melting pot of local and international cuisines, The Crack Shack has quickly gained notoriety as one of the best hole-in-the-wall places in Old Pasadena, with a devout fanbase to prove it. Opening in the fall of last year, it is one of five flagship stores headed by Michael Rosen and former Top Chef winner Richard Blais.
The restaurant features an upscale, yet simple reworking of classic chicken goodness with a Southern Californian flare. Using premium ingredients — from locally sourced produce to organic, antibiotic, free-range chicken —The Crack Shack strives to evoke feelings of nostalgia and culinary excellence all at an affordable price. Although the prices may seem like a stretch, I can confidently attest that a few extra bucks are definitely worth the quantity and quality of the food.
Upon entering the restaurant, I couldn't help but notice the wafting smells of food heaven that filled the place. The larger-than-life chicken statues spaced throughout the restaurant only encouraged me to order the one food I came to eat: chicken. With my eyes way bigger than my stomach, I eagerly ordered pretty much one of everything they had on the menu: the Double Clucker burger, Border Slaw salad, Mexican Poutine fries and of course, fried chicken. Restrained to one word, my splurge on chicken can only be called as phenomenal, but nothing can ever possibly come close to accurately describing perhaps the greatest cheat day I ever had.
Towering with two thick chicken patties, loaded with strips of bacon and slathered heavily with avocado all crammed into two potato rolls, the Double Clucker is nothing short of spectacular, with its explosion of savory flavors from the chicken. Its mere size was humongous and I could barely fit it in my mouth.
But for the few things the sandwich lacked, the fried chicken seemed to put it to shame. The chicken was simple, yet it was the type that made your stomach growl when full and mouth water just looking at it. Oozing with fatty juices the moment you bite into the tender, white meat, your tongue finally meets the epitome of chicken and its rich, savory taste. And with the common dressings on tap next to the cashier, it feels as if I could've stayed there forever, indulging myself in the best fried chicken around.
On the side, the Mexican Poutine fries were hugely addicting. I couldn't stop myself from eating the nicely fried fries mixed with some tomatoes, jalapeño sauce, and, yet again, chicken. The Border Slaw salad was decent as well, as the mango, pineapple and coconut trio provided a sufficient amount of sweet to balance with the Double Clucker. It was not the greatest slaw, but gave a refreshing taste from all that chicken.
Delicious from beginning to end, The Crack Shack is the best place to go for a cheat day, and will certainly leave you smiling with a full, happy stomach.
The Crack Shack
30 W Green Street
Pasadena, California
(424) 901-0077
About the Writer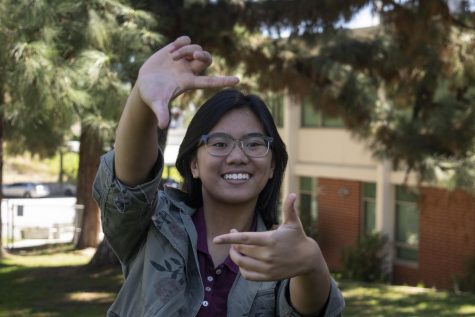 Lois Ramilo, Yearbook Section Editor
Hobbies: Sleeping, eating, traveling and more sleeping

Favorite shows: Too cool to have any

Places you want to travel to: Wakanda, Bhutan, Antarctica

Items...