Local Italian food just right around the corner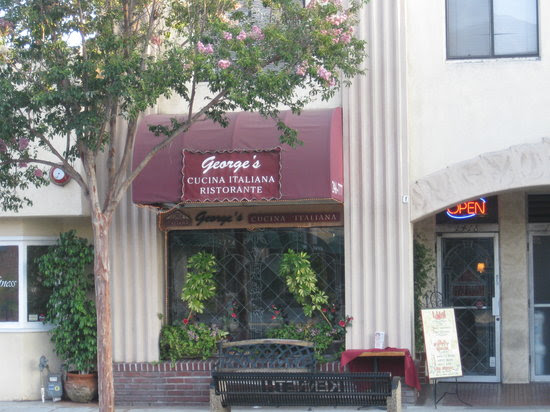 Kenneth Village is a small strip of Kenneth Road that has many restaurants, shops, exercise studios and much more. One of those restaurants happens to be a family-owned, Italian restaurant named George's Cucina Italiana. George's Cucina Italiana has a warm atmosphere, yet is quite small in size. Also, parking can be a struggle.
However, George's offers a great selection of Italian fare that makes up for its sometimes cramped seating and challenging parking. George's serves many different dishes that include Italian-style sandwiches that can be served hot or cold, various different pasta entrees and pizzas. The menu even includes some Italian dessert such as cannoli and spumoni.
George's also offers different types of salads that could appeal to many different people. The prices of these entrees often varies depending on the category, but nothing on the menu is more than $20, which is pretty reasonable for most high school students.
My first time trying George's, I tried their Chicken Parmigiana Penne pasta dish. Portions are very sizeable, and I ended up having leftovers. The dish that I had was worth it due to the fact many dishes looked authentic and tasty. All of George's delicious dishes are made fresh daily and will not disappoint.
On second visit to George's I tried the pizzas that everyone seems to be raving about. Georges was even nominated for best pizza in Glendale. All I can say is that I was definitely convinced. I ordered the vegetarian-style pizza and it was the first time I had seen eggplant put on a pizza. George's also offers the choice of thin or thick crust. The pizza that I ate had the perfect combination of cheeses and seasoning.
The service in the small restaurant is friendly and attentive. On the weekends, musicians perform until closing. While it is probably the busiest time to do so, the musicians bring the community together to enjoy great food and music as well.
George's Cucina Italiana
1418 Kenneth Rd, Glendale, CA 91201
(818) 246-7777
| | |
| --- | --- |
| Sunday | noon–9 p.m. |
| Monday | 11a.m.–9 p.m. |
| Tuesday | 11 a.m.-9 p.m. |
| Wednesday | 11a.m.–9 p.m. |
| Thursday | 11a.m.–9 p.m. |
| Friday | 11a.m.–10 p.m. |
| Saturday | 11a.m. –10 p.m. |