El Sauz becomes a hit with Glendale's youth
On the corner of Colorado and Pacific lies one of the hottest Mexican spots in Glendale, El Sauz. El Sauz is a small yet vibrant restaurant, filled with people 24/7. Known by many as "El Sauz no. 2." in reference to it being the second location in the El Sauz chain, this El Sauz has slowly but surely gained the illustrious reputation that "El Sauz no. 1," also based in Glendale, has had for decades.
El Sauz is small in size, with this location only offering a few tables for outside seating and the restaurant itself only being inside of a small shack, however it more than makes up for those difficulties with its quality of food. Many of my friends, who are self described lovers of Mexican food, are fans of El Sauz. They all said that they have been to Mexican spots all over Glendale and Pasadena, and that they believe that El Sauz is in the top three because of its rock bottom prices and great atmosphere.
I went to El Sauz on a recent Saturday with a few friends to El Sauz. I can easily say that I was very impressed with what I had. I ordered six tacos, three chicken and three steak. The food came quickly to our table,.
Both the chicken and the steak were succulent. The tacos also had cilantro and a special El Sauz sauce. It was truly a Mexican feast — all six of the tacos being of good size and all costing around $8. I couldn't finish all of the tacos due to the sheer size of them all, so I had to take a few of them home.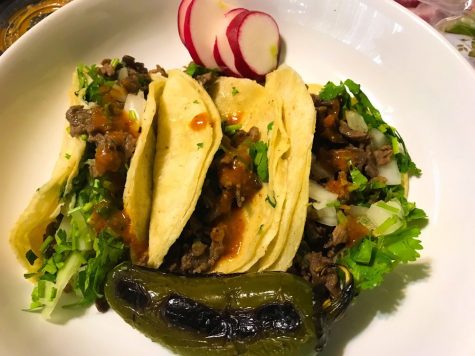 While I was there enjoying the tacos, I also noticed the scores of youth flocking to El Sauz; virtually everyone in line at the restaurant being 25 years old or less. My experience at El Sauz was truly a pleasure and it helped reaffirm my belief that with restaurants sometimes the hole-in-the-wall places can serve the best food.
El Sauz does lack seating, but thankfully, take-out is a good option. With its cheap prices, good food and lively atmosphere, I would highly recommend El Sauz to anyone looking for a great Mexican food spot.
El Sauz
470 W Colorado St Glendale, CA 91204
Hours:
Mon. – Sat. 8 a.m. – midnight
Sun. 10 a.m. – midnight