Friendly, extravagant, modern: A Gem in K-Town
School Food Blooming Roll intermixes American and Korean culture
Consisting of immaculate tastes and breathtaking scenery while imitating modern American styles, Koreatown's School Food Blooming Roll is no ordinary restaurant. What makes this restaurant extraordinary from the other conventional food establishments? The intricate complex values that connect both the delectable foods and impactful history give the food a more definite meaning to the food rather simply devouring it.
Beginning from a mere motorcycle, the essential goal for School Food was sharing delicious Korean snacks while traveling across South Korea. The news of mouthwatering, appetizing foods from a motorcycle eventually became known around the area. The authentic Korean food sold like hotcakes. Everyone wanted everything. The small School Food community flourished, ultimately leading to gormands demanding a restaurant and thus a "gem" was created.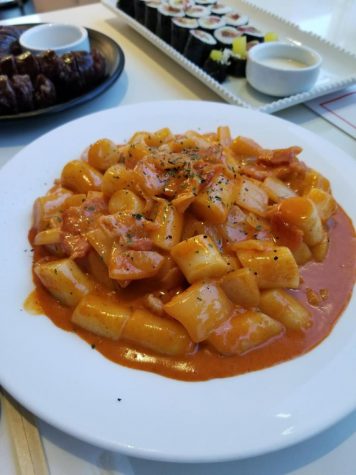 In Downtown LA, there are a plethora of restaurants all maintaining their own cultures and values behind their foods. School Foods, originating from South Korea, arrived to Downtown LA carrying traditional Korean aspects expanding LA's diversity.
Upon arrival, it's clear that the South Korean history envelopes the entire restaurant. The peculiarly adorable tables and chairs, similar in style to furniture one would find in dollhouses, represent the South Korean traditions where many people eat at cute little tables with small chairs. The energetic K-pop music brings a cheery atmosphere that enlightens anyone's mood. The vibrant colors captivate anyone's eyes. School Food Blooming Roll's authenticity accompanied with an elegant modern environment has all kinds of people coming in. The vibe feels trendy and cafe-esque opposed to the formalities American restaurants possess.
The South Korean cuisine is just an exquisite masterpiece. Kimchi ramen, kimbap (Korean-style sushi), topokki (savory bite-sized rice cakes), don katsu (crispy pork cutlet), and tok-su-nee (Korean-style sausage) are some casual Korean dishes with each dish carry their own original flavor so addictive you can't get enough of.
The garlic and bacon kimbap with its acidic pickled ginger combined with the greasy bacon creates an explosive umami effect in your mouth. The different types of topokki — spicy carbonara, a creamy original, and much more — lead to School Food Blooming Rolls catering to tastes ranging from high profile people to regular old joes.
If you are craving something crunchy, get the don katsu, enclosed in a crispy bite, while enjoying the moist pork within its outer layer. If you are a sausage fanatic craving a new experience, there is always the tok-su-nee possessing a light texture compared to European gamey sausages. Or enjoy the most popular topokki, a unique fusion of American and Korean elements containing a sauce not too creamy or rich (also being lactose intolerance friendly).
School Foods with its collection of appetizing foods incorporating both American and South Korean traditions offers an entirely new adventure for your pallet.