The Great White Hut
Glendale's historic little hut continues to serve up delicious and affordable fast food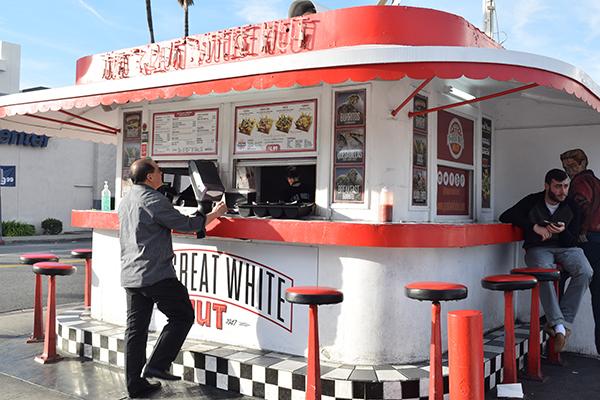 Just on the outskirts of bustling Downtown Glendale, the infamous, bright red Great White Hut stands on the corner of Orange and California. This landmark is hard to miss, but is dismissed by many people.
This place is not your typical eating establishment by any means. The shack itself is tiny, not exceeding the amount of space of the typical food truck. Their menu consists of American favorites with a handful of Mexican favorites as well.
Many of these items have a really unexpected yet oddly delicious twist, like the "Sunrise" fritas bowl. Fritas are essentially a large serving of fries with a variety of toppings on them like meat, vegetables and sauces. The idea is to create a cheap but very filling entree out of what is essentially a side dish.
One of these delicious fritas bowls is the not-so-classic "Classic" style fries The carne asada, feta cheese and Spicy Garlic Aioli sauce are a great complement to the crispy, thick-cut fries. All these ingredients are filled up to the top of a little cardboard to-go box in true street-food fashion.
The sauce, however, is the ingredient that really gives this plate a kick, giving your tastebuds a tangy, then spicy sensation. After getting a taste of these hot, crispy fries, the potato-filled cardboard box is a difficult one to put down.
The carne asada tacos, which also entertain cilantro, onions, and salsa, are some of the most flavorful and authentic tacos I've come across in a non-Mexican environment. The price and the quality are out-of-this-world, and not to mention that "The Hut" celebrates Tuesdays with 99-cent Taco-Tuesday tacos, knocking the neighboring block's King Taco out of the park.
The Great White Hut's hamburger features a beef patty, lettuce, tomato, onions, pickles and thousand island sauce all in between a toasted bun — truly an American classic. In my opinion, the structure and quality is comparable to the beloved In-N-Out hamburgers. However, if you want something a little extra, getting a double or adding on bacon, avocado, or even an egg, is the way to go.
A trip to this eatery is a must, especially for Glendale natives. It's important to support such a quality local establishment, rather than to just walk down the street and go to an In-N-Out or a Subway, especially since the Hut has a variety of classics at unbelievably low prices. Although it is located in a rapidly developing Downtown Glendale, its out-of-the-way location still provides a mellow atmosphere for you and your pals to hang out and eat some delicious, authentic fast food.