Hidden gem in Glendale strip mall serves up authentic Korean food
Hidden gems are hidden for a reason. These treasures stay a secret for so long until they are discovered and given the deserved exposure to the greater public.
Mitzee Teriyaki, a restaurant at one of many Glendale shopping centers, is one of those treasures. The light yellow walls and framed sheets of paper with phrases in the different languages make this restaurant a unique place to dine. There are lightly colored wooden chairs and tables that complement the walls, set up with bundles of chopsticks ready to be used. The overwhelming aroma of teriyaki chicken being fried on the fry top — complemented by the scent of steamed broccoli, carrots and cabbage — fill the air with scents of Asian cuisine.
The beef and chicken teriyaki with a side of chicken egg rolls, which are the restaurant's signature dishes, are prepared the instant the order is given. For the cooks here, working quickly to accommodate the customers is a force of habit, and one can truly appreciate it considering the fact that the food is freshly made in house.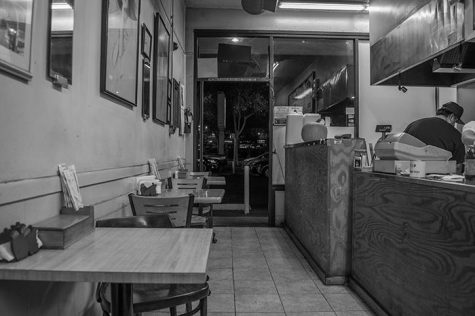 The portions are very generous. As the tables are already set with chopsticks and other utensils, the hassle of asking for anything extra is unnecessary.
Taking out the pair of chopsticks out of the bundle of prepared utensils, and picking up a piece of the well seasoned chicken brushed with the teriyaki sauce, one experiences an explosion of flavor, with the saltier taste of the fried chicken breast being complemented by the slightly sweeter taste of sauce. The bed of rice that the meat rests on is perfectly steamed, and the soft jasmine rice is well salted. Not forgetting the side of vegetables, which are just as well steamed as the rice, the prepared plate is portioned impeccably.
The menu ranges from certain types of chow mein, which come with the option of beef, chicken and shrimp, to more exotic dishes that include squid. Only downside to the menu would only have to be the lack of vegetarian options.
Mitzee Teriyaki is truly a perfect restaurant. The food has love put into it, the service is fantastic with smiles all around, and the price to portion ratio is superb.
Contact info:
Address: 721 S Central Ave B, Glendale, CA 91204
Phone: (818) 243-8078
Hours of operation:
| | | |
| --- | --- | --- |
| Mon | 9:00 am – 8:00 pm | |
| Tue | 9:00 am – 8:00 pm | |
| Wed | 9:00 am – 8:00 pm | |
| Thu | 9:00 am – 8:00 pm | |
| Fri | 9:00 am – 8:00 pm | |
| Sat | 10:00 am – 8:00 pm | |
| Sun | Closed | |