Chocolate Chair is the new place for dragons
Chocolate Chair is a trendy dessert shop located on Western Avenue in Los Angeles. It is home to the notorious Dragon's Breath, a dessert known for its 'smoke' effect which is a result of the liquid nitrogen. That's right, liquid nitrogen. I had the curiosity of trying this trending dessert that seems to be plastered on Instagram and Facebook.
I arrived at Chocolate Chair and I was underwhelmed. For starters, it was under construction and cluttered with white stools and clear glass tables. It is also connected to a skin care shop which takes away from a satisfactory meal because of all the faces on the posters staring at you.
With all this in mind, I tried to keep an optimistic outlook, especially because I saw a couple eating Dragon's Breath, and it looked impressive.
The cashier was pleasant and advised me to try the strawberry flavor with the Dragon's Breath. The total came out to be $5.44 which was a good deal, at the time.
It came out in a couple minutes and I sat down eager to try it. Dragon's Breath came in a plastic clear cup with two wooden kabob skewers. I was quite flabbergasted when I saw that it was just colorful cereal puffs.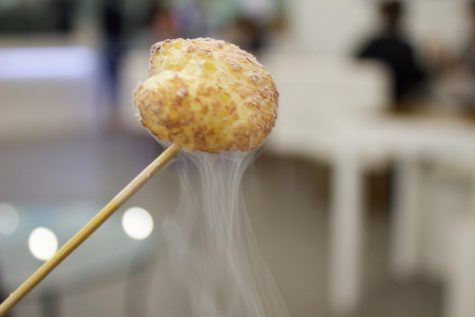 I forgot that it contained liquid nitrogen, and I made the mistake of touching the bottom of the cup rather than holding it on the sides which were protected by a sleeve. It burned my hand but luckily I placed it on the table quickly. I stabbed one of the cereal puffs and put it in my mouth. It tasted like disappointment and corn flakes. I didn't achieve the "smoke" effect in the first, second, nor third cereal puff. It wasn't until I reached the bottom of the cup where all the super cold ones were and had the opportunity of experiencing the dragon's breath. It was mediocre and a bad choice mainly because of my weak enamel. The worst part was probably the strawberry flavor which turned out to be a really thin pink liquid in a small container that hardly added any flavor to the cereal.
All in all, it wasn't worth the $6, but I'm glad I got to try the Dragon's Breath and take cute videos of myself with 'smoke' coming out of my mouth and nose.
621 S Western Ave.
Los Angeles, CA 90005
Mon.-Thurs. 12 p.m. – 9 p.m.
Fri.-Sun.      12 p.m. – 10 p.m.