'If U Love Me' by Nessa Barrett highlights the dark side of a teenage romance
With the coronavirus impacting the lives of millions of people worldwide, a variety of artists have been writing and producing music from the comfort of their own homes to provide their fans with something to look forward to during these difficult times. Back in July, Nessa Barrett released her very first single, "Pain" and now she is back again. 
From a small town in New Jersey, Barrett started gaining popularity on TikTok While she is known for being a social media influencer, Barrett has always had a passion for music. Her 11.5 million followers on Tiktok have allowed her to pursue a career in music. 
On Oct. 9, Barrett released her newest single, "If U Love Me," which sheds light on the imperfections of a teenage relationship. 
Throughout the entirety of the song, the beat gives off a dark and edgy vibe. What starts as a slow and calm melody quickly escalates to a dramatic beat. This beat allows listeners to sink into the song, all while getting chills throughout their bodies. 
Barrett starts the song off by saying, "Maybe there's a reason in your head tied up somewhere that we went when you were mine. Maybe it's the feeling that you get, guilty over everything you did." This line might resonate with some teenagers who have been in a relationship where a partner has cheated on them. 
Towards the middle of the song, Barrett focuses on the idea that someone who gets cheated on only grows stronger. She sings the lines, "Now I know the ways, all the other ways that they can hurt me. I won't be the same. It won't be the same, won't be as easy." This shows that being lied to can hurt, but it can also teach someone a lesson. 
The ending of the song beautifully ties the lyrics altogether and emphasizes the meaning of the song even further. Barrett ends the song by saying, "If you love me let me go. Oh, oh my dear don't love me out of fear." This line implies that someone who is cheated on would want to be told the truth. 
In an interview with the Zach Sang Show, Barrett discusses her new single and explains the meaning behind her music in general. "I feel like the overall message behind 'If U Love Me' is kind of like revenge and how love makes you crazy," Barrett said. 
The music video compliments the song very well as it showcases a very sinister and vengeful scene. Throughout the music video, Barrett is in a glass box with a man — who we can assume is the man that cheated on her — who she then ends up killing out of anger.
Within five days of release, "If U Love Me" has managed to get over a million streams on YouTube, which is a surprising number of listeners. While being new to the music industry, she is already making great hits and definitely has a bright future ahead of her.
About the Contributor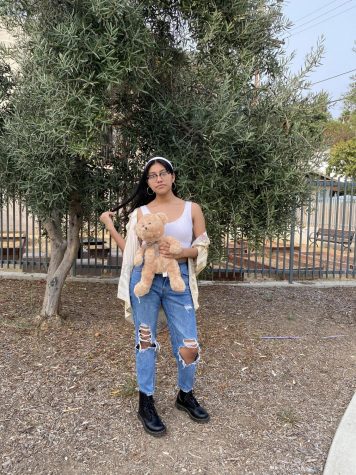 Emili Cruz Sosa, Content Editor
Hobbies/interests: Swimming and hiking

Fav artist: Chase Atlantic

Movie you never get tired of watching: Avengers: Endgame

Goal for the year:...