Ariana Grande and Justin Bieber combine their talents through their new single 'Stuck with U' in hopes of helping those impacted by COVID-19
Ever since the world has been social distancing due to the coronavirus, many people, including various music artists, have been affected. This, however, did not stop Ariana Grande and Justin Bieber from releasing their new single "Stuck with U" on May 8.
Ever since they were young, both Grande and Bieber have had a passion for music. Grande's career first rose when she played Cat on the Nickelodeon show, Victorious, and from there she released her first album in 2013. Around the same time Grande was working on Victorious, Bieber released his first album, My World 2.0, which kicked off his music journey.
Although knowing each other for years, Bieber and Grande have never blended their voices together through song until "Stuck with U."
"Stuck with U" is a beautiful track shining a light on social distancing with a loved one. This song has a very calming melody to it, all wrapped up in a blanket of romance and passion.
The song starts off with the angelic voice of Grande singing the first verse all the way through the chorus. Throughout the lines, Grande talks about being stuck with someone, and no matter what that person does, there's no one she'd rather be stuck with. One of the lines she sings is the following: "So, lock the door and throw out the key can't fight this no more, it's just you and me."
The next portion of the song is followed up by the second verse which is performed by Bieber. He goes on to mention how no one is out in the streets, and if he was told the world was ending, it wouldn't matter because being stuck with a loved one is all that is needed.
The song ends with both Grande and Bieber's voices perfectly blending together while describing how even if they are losing their minds, there is no one they would rather be stuck with during these difficult times.
The music video is just as rewarding as the song. It was released along with the soundtrack and it is a really unique video due to the fact that it features various fans and loved ones singing and dancing to the song. The video ranges from people in their prom outfits to people thanking everyone who is risking their lives trying to save others.
On May 1, Grande posted an image on Instagram stating that all the proceeds from the video will be donated towards the First Responders Children's Foundation.
"Stuck with U" is not only a beautiful romantic-like song, but it also provides listeners with a powerful message. It reminds others that throughout these hard times, people should support one another because everyone is stronger together.
About the Contributor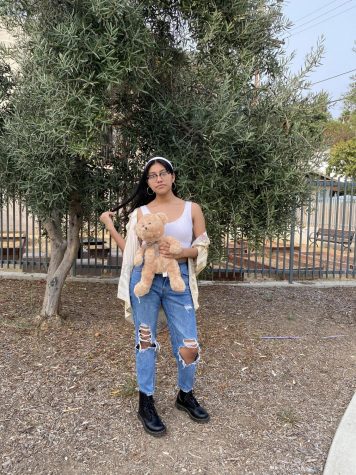 Emili Cruz Sosa, Content Editor
Hobbies/interests: Swimming and hiking

Fav artist: Chase Atlantic

Movie you never get tired of watching: Avengers: Endgame

Goal for the year:...