Justin Bieber's new single: was it really worth the wait?
After four years, 25-year-old Justin Bieber has finally returned to the music industry with a new single entitled "Yummy." The song, as well as a title video on YouTube, was released Jan. 3 as the lead title of Bieber's upcoming fifth studio album. Full of repetitive and lustful lyrics, it's obvious that "Yummy" is not even close to the quality of Bieber's songs in his last album, Purpose.
During his break, Bieber dealt with serious problems, such as fighting against illness. In one of his Instagram posts, he shows screenshots of a TMZ article detailing his battle against Lyme disease. Fans, or Beliebers, thought the singer was suffering from deep depression but didn't know the disease was the true cause. Fortunately, he has been diagnosed and treated. He explains that Beliebers can learn more about his journey by watching his upcoming document series on YouTube.
Before releasing "Yummy," Bieber released a teaser video on YouTube entitled "#BIEBER2020." The video reveals that he will release a new album and tour around the country. Fans show great excitement for what Bieber has in stock.
I really liked the single's beat, but I could definitely see why the song received such backlash. Its chorus is not the best or most meaningful: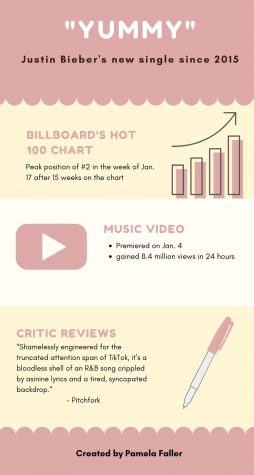 "Yeah, you got that yummy-yum
That yummy-yum, that yummy-yummy
Yeah, you got that yummy-yum
That yummy-yum, that yummy-yummy
Say the word, on my way
Yeah babe, yeah babe, yeah babe"
Considering he wrote the song about his wife, Hailey Rhode Bieber, one would think the song would be full of sweet and loving thoughts. It's disappointing that he only wrote about sex and pleasure.
While the single's beat is nice and fun, it doesn't make up for the repetitive and boring lyrics. I'll have to admit it's catchy, but it doesn't strike me as enough to be the solo single of the album.
In his teaser video he says, "It's the music I've loved the most out of anything I've done." Hopefully, his fans will love it too, but recently it seems that Bieber's "Yummy" was really not worth the wait. It's good he's finally back, but it seems his music has turned to the generic sound of most 21st-century music.