BLACKPINK collaborates with Dua Lipa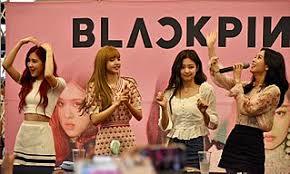 K-pop has become very mainstream in the past two years, and BLACKPINK is one girl group that is particularly popular. A collaboration between BLACKPINK and Dua Lipa has been highly anticipated by fans of these artists. After waiting for months, the fans finally got what they wanted. "Kiss and Make Up," a song featuring BLACKPINK and Dua Lipa, was released Oct. 18.
Debuting Aug. 18 2016, BLACKPINK's unique music genre has attracted many K-pop fans. Their fan base, known as BLINKS, has grown ever since. The group has released songs such as "Whistle" and "Ddu-Du Ddu-Du" that have made it onto music charts including the Billboard World Digital Songs chart. With their most recent EP, SQUARE UP, they have received a lot of love and support.
Dua Lipa is an English singer and songwriter who has released many hit songs such as "New Rules" and "Scared to be Lonely." She wrote "Kiss and Make Up" a year ago and was having trouble finding an artist to collaborate with. After meeting BLACKPINK and letting them listen to the song, the artists quickly agreed on collaborating.
"Kiss and Make Up" has been receiving good results so far. With both Korean and English lyrics, the song has appealed fans from all over the world. It debuted at Number 36 in the UK's Official Singles Chart Top 40. After a little more than a week of its release, it has gained 20.5 million views on YouTube and 19.5 listens on Spotify.
After the release of "Kiss and Make Up," fans began listening to the song and sharing their opinions on the collaboration. "I wouldn't have expected Dua Lipa to collaborate with BLACKPINK," said junior and K-pop Club member Emma Tsaturian. "It surprised me because their different music genres mixed together really well and gave the song a special flow."