Taylor Swift comes back to life with Reputation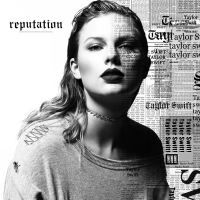 The old Taylor is dead. The sweet, innocent country ballads. Gone. The cheesy, overplayed pop songs that have ruled the music charts for years. Gone. This is the new Taylor Swift, this is her new beginning…and her new album Reputation is here to prove it.
Reputation is the new addictive drug of the music industry, a twist of old-school and new-school Swift. Songs are perfectly composed to express Swift's new self while keeping her classic earworm sound that wiggles its way in your head, with the most talked about Swift single "Look What You Made Me Do." The song is a chilling tale of revenge, hatred and broken hearts. This is Swift's new anthem against all her critics and haters, from rapper Kanye West to fellow pop singer Katy Perry. It's a song to represent the turning of a page in her decade-long music career. In "This Is Why We Can't Have Nice Things," Swift supposedly addresses her reported feud with Kanye West by singing "There I was giving you a second chance/But then you stabbed my back while shaking my hand" which is a tie-in to their back-and-forth conflict in 2016.
The album's 15 songs each have their own unique vibe that tell a story, from the emotional, teary-eyed "New Year's Day" to the modern love tune "Call It What You Want." Every word in every lyric in every song has a meaning, a special connection tied to her secretive personal life and other odes to the culture today.
The album covers a whole spectrum of different styles and words that could only be done by Swift herself. From the hip-hop styled "End Game," featuring famous trap rapper Future and good friend and music star Ed Sheeran, to the sexy, steamy autotuned "Dress," Swift can do it all. You can't label Swift's music as simply pop anymore. Hear it from a pop music hater…Reputation is a musical masterpiece.
Yet, here's the catch: Reputation isn't just a beautiful collage of musical brilliance. It's Swift's official declaration of freedom from her chains of stereotyping. Every song is like a representation of the new Swift, a good girl gone bad. It seems like she has accepted her role in society the center of attention, and at the same time, to be hidden from the flashes of the paparazzi. Reputation is Swift's waltz of entering and leaving the spotlight; a coming of age to be specific, as she completely transforms herself from an innocent white, country girl to a serious, not-so-innocent musician making history.
So good job Taylor — you made me listen to your music for hours on end. Reputation lives up to hype. The new Taylor Swift is just like we envisioned, and the songs are way too catchy to play just once. The only drawbacks are the constant and consistent use of autotune, but besides that, this is one of the best albums of 2017.
MY SCORE: 9/10
MOST CATCHY OF THEM ALL: "Gorgeous"
SONGS YOU COULD LIVE WITHOUT: None of them…they're all too catchy