Big K.R.I.T returns with "4eva is a Mighty Long Time"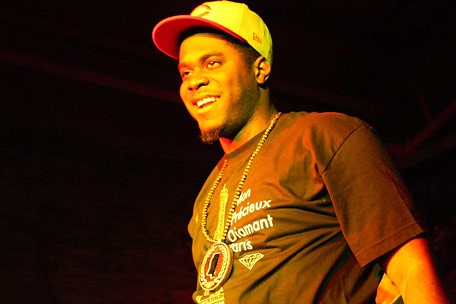 After his second album Cadillactica, released in 2014, and his mixtape 12 for 12, released in 2016, Big K.R.I.T. — born Justin Scott — finally returned to release his third studio album, 4eva is a Mighty Long Time on Oct. 27.
Expectations were high coming into this album, as both Cadillactica and 12 for 12 were vibrant displays of his production and rapping skills. With artists such as UGK, CeeLo Green, Bilal and Robert Glasper joining him as features on this album, there was no way he could fail.
Coming from Mississippi, Scott has several legends in hip-hop from the South, such as Outkast, T.I. and UGK whose styles are heavily incorporated in 4eva, especially with his flow, because his accent heavily emphasizes ultimate syllables.
The roll out for this project was smooth; just one month ahead of the album's release, Scott released "Confetti," the first single on the album. His other two singles, "Keep the devil Off" and "Aux Cord" released soon after, preceding the album with rapid pace.
The project is over an hour long, but the diversity between songs as well as the compelling and intricate content doesn't feel like a chore to listen to. 4eva seems like a coin; the banger-loaded front end of the two-disc album is filled with and hard hitting beats. The second half of the album is more gospel-influenced and thought provoking than the initial half, with smoother beats as well.
What also contributes to the dual-personality of the album was Scott's unique take on the seemingly outdated double disc album. The initial track of each volume reflected his personas; the genesis of Volume 1 is "Big K.R.I.T." sets the tone of the first half by establishing a pace that lasts throughout the first disc. The second half, with "Justin Scott" as its initial track, is more introspective than the first half.
The first four tracks of the album hit unrelentingly hard — and even that might be an understatement. Scott's skill as an overall artist shine throughout this project; and it is superiorly evident in the intro track "Big K.R.I.T." and "Big Bank" featuring one of his influences, T.I. "Subenstein (My Sub IV)" is one of the most bass-loaded and banging "bump in the whip" tracks of 2017, and it isn't just the beat that's crazy — it's his flow as well.
The first volume of the album was weaker in comparison to the second, but that doesn't mean it was substandard. Tracks like "1999" and "Layup" just don't make the cut, but they might be enjoyable for some.
The second volume is where Scott's intricate rhymes and rapping technicality are displayed to the fullest extent. Though the beats are still better and more unique than those of others in Scott's lane, they don't take anything away from Scott's skill.
On "Mixed Messages," Scott takes a look at his own downfalls and mistakes. Scott claims that because he has been rapping for so long, his messages are starting to contradict each other. "I love her and I hate her at the same time — I'm wack and I'm dope in the same rhyme, I'm dull but I'm gloss in the same shine." Scott displays his self-doubts and insecurities in this song, and opens up to his listeners.
Scott sticks his name back in the rap game with 4eva, and is that much closer to cementing himself as a Southern rap legend.
4eva is a Mighty Long Time gets an 8/10. It was a great project with solid, self-produced beats, intricate rhyme schemes, and unique takes on love, money and God. This is Scott's first full-length studio album in three years, and he hasn't skipped a beat.
STANDOUT TRACKS: "Drinking Sessions", "Price of Fame", "The Light", "Subenstein (My Sub IV)", "Aux Cord"
TRACKS YOU CAN LIVE WITHOUT: "1999 (feat. Lloyd)"
FAVORITE LYRIC: "What good is rest when there's family to feed? When it's money to get? When it's dollars to count?" – Big K.R.I.T., "The Light"