Cardi B's "Bodak Yellow" Hits No. 1 Billboard Chart and more
New Artist. New Hit. New Girl. Cardi B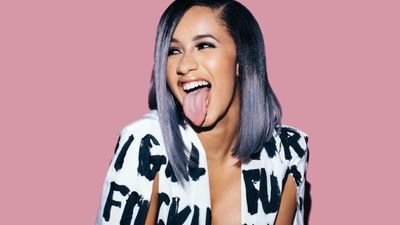 On Sept. 25, history was made when the Billboard 100 Charts announced Cardi B as the second female rapper with a solo single to reach the No.1 Billboard 100 Charts, proving Ms. B to be a potential force with which to be reckoned.
As she entered into an elite class of rappers for her breakout hit single "Bodak Yellow (Money Moves)," Cardi B is only being the second female rapper to have a single reach the No. 1 charts without a featured artist since Lauryn Hill for her song "Doo Wop (That Thing)" in 1998.
Cardi B now remains one of the most influential women in rap and pop music culture. During this 19-year long period Lauryn Hill held the title of the only female rapper to reach the No. 1 Billboard Charts. You'd expect familiar famous names: Nicki Minaj, Missy Elliot or Iggy Azalea. Nope. Instead, there was someone from 2017 who's name remained unknown for the longest time. This was someone new, someone outstanding, someone tenacious. Someone like Cardi B.
Iggy Azalea reached the climax of her stardom in 2014 with singles like "Fancy" and "Problem." However, she depended on other artists to attract their fan demographics to gain immense popularity.
Cardi B, on the other hand, achieved greatness from her independence, producing her hit single, "Bodak Yellow." The entertaining characteristics of the song brings forth rhythm and a catchy beat anyone can party, sing or dance to. Her pop, swaggy anthem helped unify the music community. From the beginning of summer to mid-fall, the song can still be heard practically everywhere. From car radios to that one friend who just loves to burst out singing, Cardi B— becoming the breakout artist of the summer— gives a national anthem for the rap and pop culture with her empowering lyrics.
Additionally, Cardi B's song, "Bodak Yellow," surpasses Taylor Swift's song, "Look What You Made Me Do" which reigned as the number one song for three weeks until Cardi B's triumph knocked Swift's song off her number one pedestal. "It was a lovely surprise. It was kinda like a close race like Obama was running for president. I was like AHHHHHHHH!" said Cardi B in a Billboard's interview. Swift even sent a bouquet of flowers as a sign of good sportsmanship to commemorate Cardi B's success. "Bodak Yellow" has become so popular that there was a Spanish version made.
Cardi B had a history of domestic violence and abuse yet, later became an exotic dancer to support herself, creating an inspirational story for women around the world. Starting from nothing and having her career skyrocket after this release of her hit single states that anyone has the possibility to start a new life