Drake questions if there's 'More Life' when you Drake and drive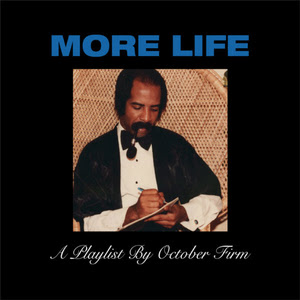 The 6 God returned on March 18 to deliver his highly-anticipated gift to the music world, a 22-track "playlist," as he calls it, to make up for the fluke that was Views.
And now, without further ado, a play-by-play review of More Life.
Free Smoke — The perfect song to open up this album, which also foreshadows how often Drake will embrace foreign rappers and their sound. It's also a warning for anyone who wants to take shots at Drake (including Kendrick Lamar, who released a new single just days later). "So watch how you speak on my name, you know?" A solid 7/10.

No Long Talk ft. Giggs — Drake suddenly gains a Jamaican accent and uses a beat and flow similar to one that appeared on his last masterpiece,

If You're Reading This It's Too Late

. He brings UK rapper Giggs on the track, who, in my opinion, makes up for Drake's overuse of the British slang word, "ting." Seriously, whenever Drake hears a new colloquialism that hasn't already been monopolized by another rapper, he takes it. Another 7/10.

Passionfruit — This is where Aubrey — I mean, Drake — shows just how much Aaliyah influenced his sound. Yes, that means he sings. He's a pretty good singer. The music is very ambient, almost like you're eating at Rainforest Cafe or something, and it's not just one of my favorite Drake songs, but also

Jaden Smith's

.

And we all know how smart Jaden is

. It scores a sweet 8/10.

Jorja Interlude — A short song that could have been longer. I love when he samples jazz music. He also ends this clip with the same "So watch how you speak on my name, you know?". I give it a 7/10.

Get It Together ft. Black Coffee and Jorja Smith — At this point I want to ask Drake if he ever wants to make elevator music, or perhaps recreate the soundtrack for

The Devil Wears Prada

, with Meryl Streep reprising her role as Miranda Priestly. When I hear this song I feel as though I'm walking into Abercrombie without a flashlight. Don't get me wrong, though. I prefer a romantic Drake over "hard guy" Drake. Another 8/10 for Mr. Graham.

Madiba Riddim — Inspired by the late Nelson Mandela; a South African-influenced love song that's so cute and makes me pray that this song wasn't inspired by Rihanna, because she doesn't deserve it. However, there's one lyrical flaw: he says his heart is too frozen to be broken, but apparently he missed that one day in science class where we learned that frozen things are broken more easily. That's how people with frostbite lose some of their extremities. A solid 9/10.

Blem — If you liked "Work" by Rihanna, this is its mellowed-down twin sister who likes to stay in on the weekends and dance by herself. It's a song meant to be played on a summer night with your windows down as you drive to the beach, no questions asked. 9/10.

4422 ft. Sampha — Venturing into R&B god The Weeknd's territory, this song is super slow and should not be listened to unless you want to end up calling your former significant other, crying and asking them to take you back. I warned you. 7/10.

Gyalchester — A real hit off

More Life

. Amazing beat, plus, "HERMES LINK / ICE BLUE MINK," a lyric you will be screaming at the top of your lungs at least once. The arrangement is very much inspired by UK rap beats, the title itself being an amalgamation of the words "gyal," which is Britspeak for "girl," and Manchester, a city in England. This earns

More Life

's first 10/10 from me.

Skepta Interlude — Just because I love Skepta and his voice, I wish this song was longer. He could teach Drake a thing or two about being a real gangsta. 8/10, perhaps 9 if it were longer.

Portland ft. Quavo and Travis Scott — Arguably the best song off

More Life

. I could just be biased, because I love Quavo, master of hooks, and Travis, god of tasteful autotune. This isn't Drake's song anymore. It belongs to the other two rappers. Sorry, Drake. But a 10/10, nevertheless.

Sacrifices ft. 2 Chainz and Young Thug — This song starts out with piano music that I first mistook as the same song that plays during

Finding Nemo

. The features make it better; I feel as though it would have fared worse had it just been Drake. 7/10.

Nothings Into Somethings — I also want to ask Drake why he puts random talking sequences before, during, and at the end of some of his songs. Like, dude, I know you're heartbroken, but don't ruin it for the rest of us. At least we get to hear his falsetto in this bass-heavy anthem for the brokenhearted. A decent 8/10.

Teenage Fever — Drawing inspiration from mentee Roy Woods hit single "Drama," Drake sings. About love. Again. Seriously, Rihanna messed him up real bad. I suppose we all have to thank her, because this song is at least a 7/10.

KMT ft. Giggs — Finally. The song that turns Drake from a Yorkie to a Mastiff. It's got some sort of trumpet or something, and a marching beat. Giggs, however, is a Pitbull by comparison. I'm starting to believe that UK rappers are the real deal. 7/10.

Lose You — The title says it all. Drake is still sad, 16 songs deep. Someone send him an Edible Arrangement. This is getting tiring. 6/10.

Can't Have Everything — It can't be just me, but this song seems to have a beat similar to Jay Z's "Empire State of Mind" with Alicia Keys. The lyrics are kinda dry. I shouldn't have gotten my hopes up. 6/10.

Glow ft. Kanye West — Just seeing Kanye's name appear got me excited. And then 'Ye started singing. What is Drake doing to Kanye? Yeezus regains his senses and lets Drake do the singing, and brings his old style to this song. I wouldn't have expected anything less from the culture icon—and I'm not talking about Drake. 7/10; would have scored higher if this song belonged to Kanye and only Kanye. And the gospel choir at the end.

Since Way Back ft. PARTYNEXTDOOR — PND is another classic collaborator of Drake's, and does his best to redeem the Canadian rapper. It worked. 8/10.

Fake Love — This song was good until it became overplayed as a single on the pop radio stations. I hate this song now. Hell is a place where only this song is played over a school's speaker system. 4/10.

Ice Melts ft. Young Thug — No one can understand what Young Thug says. Usually, I'm a Thugger Whisperer, but not for this song. I don't know why it's even on the playlist.

More Life?

More like "more death," because I'm dying from listening to Drake talking about how hurt he is. Not even his Gucci Mane reference can save this song. 6/10.

Do Not Disturb — Thank goodness I listened to the whole album, because apparently Drake put one of the better songs at the end. It's very reminiscent of "6PM in New York," off

If You're Reading This It's Too Late

. But you know there's something wrong where the backing track is almost as good as his actual rap. 7/10.
Overall, if there were a fire and I were stuck in a room in these 22 songs, I'd only save five at the most. My calculations read an average score of about 7/10. Not bad, Drake.