The A$AP Mob pays tribute to former leader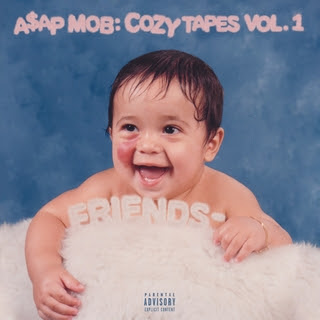 Following the January 2015 death of the Mob's founder, Steven Rodriguez, also known as A$AP Yams, the rap collective has dropped a highly-anticipated hip-hop/trap album in his memory.
"Cozy Tapes: Vol. 1 Friends –," the compilation album, debuted on Oct. 31 through ASAP Worldwide, Polo Grounds Music, and RCA Records.
Mob members A$AP Rocky, A$AP Twelvyy, A$AP Ant, A$AP Ferg, A$AP Bari, and Playboi Carti contributed verses on the 12 track drop, as well as friends of the group, including American rappers Juicy J, Taylor Gang's Wiz Khalifa, London-based Skepta, newcomer Lil Uzi Vert and Golf Wang CEO Tyler, the Creator.
Four singles were released throughout the year leading up to the Halloween release date.
"Yamborghini High," which debuted on Jan. 16, features Juicy J, and is both the lead track and main tribute to A$AP Yams — the song title includes a portmanteau of his name and famed sportscar brand Lamborghini. Members of the Mob also contributed to this song to pay their respects to the man who brought them all together.
"Crazy Brazy," followed suit on Oct. 14, and has the same distinct sound that the New York-based group brings to every track they release, be it solo or collective. The song is a reference to the Bloods vs. Crips gang rivalry, which is fitting, as the Mob could not have garnered much success without running into beef with other rap groups.
"Runner" and "Telephone Calls" were the last singles, released on Oct. 28. Both tracks have a similar dark beat to them, and it's evident that every rapper featured has stepped their game up — in the latter, A$AP Rocky explicitly challenges his known friend Tyler, the Creator (formerly of OFWGKTA) to do better: "Tell Tyler, better step his flow up."
On Genius, Rocky himself stated: "That's my brother. Yeah, we had to compete because I bring a certain energy out of Tyler. Tell me if you've ever heard Tyler, The Creator rap like that in your life. Wait until you hear new [stuff] we've got coming. We've got even more crazier [stuff]. That [boy] is just as much blood to me as most of my A$AP [boys]. That's my bro. I wish I knew that [boy] my whole life."
Overall, this album does their late founder justice. While it was a disappointment to not have A$AP Rocky's collaboration with Pharrell, "Hear Me," featured, it's a solid 9/10. RIP Yams.