Charting out "The Life of Pablo"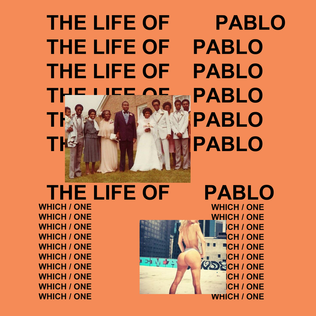 No, it's not an up-and-coming indie film that premiered solely at the Sundance Film Festival. It's Kanye West's long-awaited successor to his 2013 record, Yeezus. The stakes were incredibly high for this album — there was a lot of hype built up around this 18-track project.
So much hype, in fact, that Martin Shkreli, a pharmaceutical entrepreneur, offered to pay Kanye West $10 million to release the album solely to him. His offer can be found here, on his Twitter. He was later scammed by someone, and paid $15 million in Bitcoin for the album to the scammer.
A lot of attention was put on this album, beginning in Dec. 2014, when West released "Only One" with Sir Paul McCartney (of the Beatles!), a song about his late mother Donda. It continued the following month with "FourFiveSeconds," featuring Rihanna and Sir Paul (again) — this particular song has reached 275 million plays on Spotify.
His wife, Kim Kardashian, has also used her prominent social media accounts to promote his album, often posting about it on Instagram and especially on Twitter. West finally played his album and performed a few songs during the sold-out showing of his Adidas Yeezy Season 3 collection at Madison Square Garden on Feb. 11.
West made an appearance on Saturday Night Live, performing "Highlights" and "Ultralight Beam." He later revealed that his album would be immediately available to stream or download for $20 on the music app Tidal, owned by friend and fellow rapper Jay-Z. However, the site was a flub and the music was unavailable, even though numerous credit cards were charged with the purchase of the album. The album is to be made available to the general public a week after its Tidal release.
He also disclosed that he is $53 million in debt due to his venturing into the fashion industry — Kim has been funneling millions of her own dollars into his projects, according to an article by Variety.
In the past few weeks, West has been surrounded by controversy after controversy. After many problems, a Twitter feud with rapper Wiz Khalifa and ex-girlfriend Amber Rose (who is Khalifa's ex-wife, incidentally), the allegations of new beef between him and Taylor Swift, and a Bill Cosby endorsement (note: he is GUILTY), it's about time he can now be judged based on his music rather than his side-jobs.
"The Life of Pablo" features writers such as Pharrell, Drake, Chris Brown, Scott Mescudi and producers such as Swizz Beatz, Rick Rubin and Metro Boomin. Additional vocals are provided by the likes of Frank Ocean, The Weeknd, Post Malone, Ty Dolla $ign, Rihanna, Kendrick Lamar and André 3000. West himself was involved in the entire production process.
The album itself gives off very mellow vibes, with occasional gospel influences — it can make you feel like you're driving down the Pacific Coast Highway in an old Mustang convertible on a warm summer day, during the '70s. There are some bluesy undertones, and hints of old-school rap. It's all very nostalgic, and definitely different from its more electronic predecessor. It might be somewhat disappointing to those who were expecting Yeezus 2.
Notable tracks include "No More Parties in LA," "Facts (Charlie Heat Version)," "Famous" and "Highlights." The new Kanye might be different, but sometimes change is good.