The Divine Intervention of Grimes
The pop princess returns with 'Art Angels'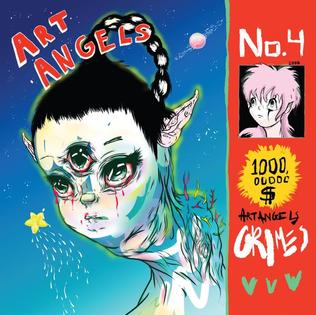 Finally, Art Angels is here. After what seems like forever now, Grimes has released the follow-up to her 2012 album Visions.
Claire Boucher is Grimes, the self-appointed "surrealist yuppie" and sensational 27-year-old artist from Vancouver, BC, most popular for her music, although her talents extend to painting, filmmaking, producing records (her own and others') and writing. The success of her previous masterpiece of an album, Visions, released on the legendary label 4AD, put her under the radar of all lovers of the indie music scene.
Visions wasn't Boucher's first album, but it was definitely the one that put her out there. Prior to that, she released Geidi Primes and Halfaxa both in 2010 and Darkbloom in 2011. Gaining high praise from the likes of Pitchfork (who seem to follow her every move now), she became one of the most well-known indie musicians to emerge from Canada in recent years.
2015 has been a huge year for Grimes. Since early this spring, she has been publicly toying with the idea of releasing new music via her Twitter. On top of that, she toured with Lana Del Rey in the summer.
On March 8, Grimes released REALiTi, a music video which she claimed was a demo from "the lost album." After drawing much confusion and some disappointment, she released a statement on her Tumblr a couple days later further explaining why she threw away an entire album of songs. According to her, "The album was scrapped cuz it was depressing and I didn't want to tour it." She also stated in the same post that "People's opinions do not factor into my process."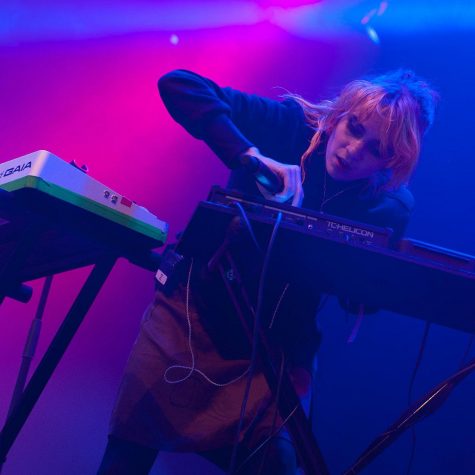 Throughout the span of her artistic career, it is this message which Boucher has made most clear. She is vigorously intent on making sure that everything she does is her own. This time around, Boucher wrote and produced every song on the album as well as directed all the music videos. She even launched her own record label, of sorts, earlier this year called Eerie Collective. Her very existence is a fight against the stereotypical "pop star" persona the media tries to label her as.
In late October, Grimes announced via social media that her new album was finally ready to be released. She tweeted the album cover and title and stated that a video would follow next week. That video was "Flesh Without Blood/Life in the Vivid Dream," (below) a loud and energetic pop track which immediately confirmed speculations that her approach to the sound of this album would be very different than that of anything prior. Upon first listen, the song is very generic and it seemed to lack the defining "noise" element that made her previous releases so unique. A couple of days later, with "Scream," a song featuring Taiwanese rapper Aristophanes, some of the original stylistic elements of Grimes' music became more apparent. Prior to its release, she tweeted that every song on the new album was unique in style and that no two songs were alike. This became evident when she released "Laughing and Not Being Normal," the opening track to Art Angels. Not only was this completely different than the previous two singles, it was completely different, even for Grimes. Starting off with a string orchestra and continuing on to include operatic vocals, it became clearer than ever that Grimes is doing something more insane than she's ever done.
The sound of Art Angels is undoubtedly more polished and mastered more professionally than Visions, or anything before, which Boucher admitted was recorded entirely on Garageband. Grimes also approached this album with a very different mindset. The infamous story of how she recorded Visions involved weeks of sleepless nights and darkened windows and Adderall on an empty stomach. She made clear that she was going to ditch that self-destructive formula and that while making the new record, she wouldn't alter her physical and mental health deliberately. The product of that has turned out to be a collective gem of heavy beats, flashy synth-pop and her signature sharp and high-pitched vocals.
This album is energetic, loud, and often times very angry. Not only that, but it has something we've never heard in Grimes' music before: real instruments. She learned how to play the guitar and bass just for this album. This change is extremely exciting. Watching Grimes evolve as a human being and artist is such an emotional experience and one that resonates with many people. Although the quality of the songs on Art Angels is not as consistent as the quality of songs on Visions, tracks such as "World Princess Part II" and "Kill V. Maim" make the entire album worth listening to. This is arguably the most important album of the year and definitely the album that will cement a very prominent standing for Grimes in our modern culture.
Essential tracks: "Kill V. Maim" "World Princess Part II" "Artangels" "Laughing and Not Being Normal" "Pin"
Rating: 8.7/10